Knee / Knee Pain
There are many injuries and diseases that cause knee pain, stiffness, instability or other problems.
Explore the knee
Click the thumbnail image below for a 360-degree diagram of the knee's anatomy and of numerous conditions, such as damaged cartilage and patellar fractures. Use the media browser to view related images and videos of knee conditions and surgeries.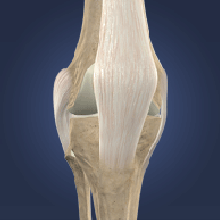 To learn more, and to find the best doctor or surgeon for your knee pain or mobility issue, explore the knee condition and treatment pages below.
Related Issues
Related Conditions
Back in the Game patient stories