Introduction
Hospital for Special Surgery conducts clinical research that incorporates state-­of-­the-­art patient care, while evaluating how best to apply the most recent innovations in orthopedics and rheumatology.
Many healthcare institutions have incorporated randomized clinical trials into their clinical research programs, but few have developed the volume or breadth of patient registries currently being compiled by Special Surgery's researchers.
Creating Registries
In creating a registry, clinicians collect various data from individual patients who are experiencing the same clinical problem, or have undergone a particular procedure, with the goal of capturing information that can be analyzed in the future. The registry is not designed to answer a specific question, but rather to capture all information about a certain population of patients.
According to Robert N. Hotchkiss, MD, Director of Clinical Research, a registry creates a culture and means of detection, enabling clinicians to collect enough meaningful data from which conclusions can be reached.
"Once we've seen a trend occurring in a certain population, we can take that group of patients and begin asking the question about whether they should get Treatment A or Treatment B," he says. "We look at the registry as part of the lifecycle of discovery, which helps us gain insight about a problem, treatment, or diagnosis, and out of that insight comes a more refined question that can be generated into a randomized controlled trial."

Dr. Hotchkiss says that few healthcare institutions have the infrastructure to collect and analyze such large amounts of data in a way that will produce valuable results. "Registries are very challenging – they are not simple, not cheap, and require people that have expertise and understand the exact nature of the registry," he says.
A registry involves a team that includes physicians, statisticians, methodologists, information technology professionals, and clinical coordinators. "At HSS, the administration, research staff, and medical staff all participate in order to make this work," he adds.
Making a PROMISSE
Aimed at identifying biomarkers that predict poor pregnancy outcomes in lupus patients, the PROMISSE (Predictors of pRegnancy Outcome: bioMarkers In antiphospholipid antibody Syndrome and Systemic lupus Erythematosus) study is a multicenter research initiative led by rheumatologist Jane Salmon, MD, co­-director of HSS's Mary Kirkland Center for Lupus Research.
To date, 590 volunteers have enrolled in the study, which was initially funded in 2003 by the National Institute of Arthritis, Musculoskeletal and Skin Diseases of the National Institutes of Health. Every patient is seen by her physician and a study coordinator each month during her pregnancy, and clinical data and blood samples are obtained.
Through the PROMISSE study, Dr. Salmon and her collaborators have worked to identify factors that can help a woman and her doctor plan for a healthy pregnancy and identify predictors of complications.
Dr. Salmon presented two of the team's preliminary findings at the annual meeting of the American College of Rheumatology and has led studies in experimental models that suggested new treatments to prevent pregnancy complications and provided the scientific rationale for PROMISSE.
Investigators found that women who conceived while their lupus disease was stable or only mildly active had relatively infrequent flares during their pregnancies and delivered healthy babies, when compared with women who conceived while experiencing a disease flare.
The second study showed that the presence of lupus anticoagulant, a specific subset of antiphospholipid autoantibodies, is highly associated with poor pregnancy outcomes. Women who tested positive for this protein were more likely to have complications such as miscarriage or preeclampsia during pregnancy. Doctors can use a blood test to determine if a patient falls into this category, and can closely monitor these women for early signs of pregnancy complications.
"Based on our new data, we believe we are in a position to help doctors counsel and care for their patients," says Dr. Salmon. "Our findings from the PROMISSE study show that women with lupus can have normal pregnancies when they work together with their doctors, beginning with the decision of when it is safe to conceive and continuing with close followup to anticipate potential problems."

The NIH recently extended the study's funding for an additional five years, beginning with $1.4 million for the first year of renewal. The continued support will allow Dr. Salmon and her co­investigators from 11 academic centers to increase the number of volunteers to 700 and to expand the study to examine a broader range of genes and molecular pathways that can affect pregnancy in patients with lupus, and potentially, cause miscarriage and preeclampsia in healthy women.
Total Joint Replacement Outcomes
Of over 40 registries currently being compiled at Special Surgery, the hospital­-wide Arthroplasty Registry is one of the largest. A comprehensive database that records and tracks detailed information about the thousands of joint replacement surgeries that take place at Special Surgery each year, the Arthroplasty Registry will ultimately be one of the most comprehensive joint replacement registries in the world.
In addition to storing information about perioperative health status, implant types, and patient demographics, the registry tracks a variety of clinical outcome measurements over time, including pain and activity level. By following the functioning of joint replacement patients over long periods, HSS surgeons hope to determine which surgical practices and implant models are most effective.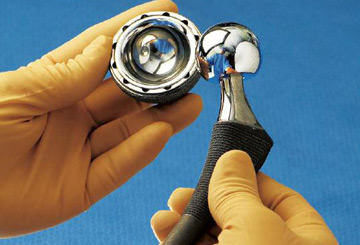 The Arthroplasty Registry was developed as a collaboration with Weill Cornell Medical College, with which Special Surgery established a Center for Education and Research on Therapeutics (CERT) to study total joint replacements.
Funded by a large scale, multi­-year grant from the Agency for Healthcare Research and Quality, the CERT is dedicated to addressing questions regarding outcomes, variations, and economic impacts of total joint surgeries. Special Surgery's CERT program is directed by Thomas P. Sculco, MD.
Patients were registered throughout the five­-year grant, with an enrollment of 21,000 patients.
A joint replacement that needs to be revised has traditionally been considered a failure. However, just because a patient has not undergone revision surgery, it does not necessarily indicate that he had a good outcome.
The registry will allow us to learn what predicts why patients do well, and allow us focus on the things that will help ensure all patients achieve optimal outcomes.

"The registries are the crude oil of research, that ultimately need to be refined by insight, observation, and human intellect," says Dr. Hotchkiss.
At Special Surgery, patient registries are enabling clinicians to examine a broad spectrum of musculoskeletal conditions and treatments, from autoimmune diseases to progressive surgical techniques, with the goal of improving patient care.

Learn more about the process of participating in clinical trials at HSS and the intricacies of the collaboration between our basic and clinical researchers.
Also, see a complete list of our current patient registries.


Written by Rachel Jager