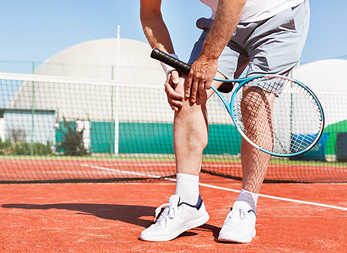 A sports medicine doctor is an orthopedic specialist and surgeon who focuses on many types of physical injuries to the bones, joints and soft tissues of the body.
Whether you're a professional, student or amateur athlete or simply enjoy an active lifestyle, the sports medicine experts at HSS Florida can help you get back in the game. Our interdisciplinary team combines sports medicine physicians with orthopedic surgeons, physical therapists and sports performance specialists to provide the best and most comprehensive treatment possible.
From nonsurgical and surgical orthopedic treatment to recovery and conditioning to prevent future injury and enhance your athletic performance, our sports medicine experts in West Palm Beach are ready to help.
Sports Injuries and Work-Related Conditions
Injuries to the muscles, tendons, ligaments, bones and joints are common in athletes, people with active lifestyles, and those who must make repetitive physical motions during work. Below are common conditions treated by sports medicine physicians.
Shoulder
rotator cuff tears
torn shoulder labrum (glenoid labral tear)
AC joint (acromioclavicular joint) sprains and separations
dislocated shoulder
Arm and Elbow
biceps muscle and tendon strains and tears
torn UCL (ulnar collateral ligament tear) – common in baseball players
golfer's elbow
tennis elbow
Upper Body
pectoral tears
back muscle strains and ligament sprains
Hip
torn labrum of the hip (labral tear of the hip)
Knee
torn ACL (anterior cruciate ligament)
torn meniscus
runner's knee (patellofemoral pain syndrome)
patella (kneecap) instability
When to See a Sports Medicine Physician
You should meet with a sports medicine physician if you experience any of the following symptoms, either suddenly during intense physical activity or over time:
knee pain, especially if accompanied by a popping sound or instability
shoulder pain or sudden weakness
elbow or arm pain
groin pain, which can indicate a hip joint or soft tissue injury
pain while running, jumping, lifting or throwing
unexplained reduction in strength or performance of activities
Will I Need Surgery for My Injury?
Many sports injuries can be treated with non-operative treatments such as:
activity modification (temporarily avoiding certain movements)
physical therapy
NSAIDs (nonsteroidal anti-inflammatory medications) such as ibuprofen
injection therapies of corticosteroids or other agents
Your doctor will assess your condition and determine whether nonsurgical treatments may help. When surgery is required, most sports medicine procedures are performed as outpatient surgery at our ambulatory surgery center, HSS Palm Beach ASC.
Sports Medicine Doctors at HSS Florida
Each HSS Florida sports injury doctor will create a personalized treatment plan that is appropriate for your injury and lifestyle. This includes coordinating with HSS physical therapists and performance rehabilitation specialists to get you back on track. Find the best sports medicine doctor at HSS Florida for your particular condition.