Here you will find important patient resources, including information about the MyHSS online patient portal, billing and insurance information and more.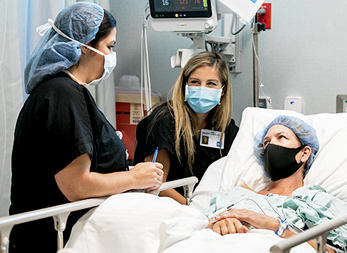 MyHSS
MyHSS is an online patient portal that provides secure access to your HSS healthcare information. It is available on any mobile device, computer or tablet with an internet connection using your secure login credentials.
Through MyHSS, you can view test results, request appointments, complete previsit questionnaires, manage billing and payments, communicate with your care team and more.
People receiving surgery at the HSS Palm Beach ASC will need to register with One Medical Passport.
Billing Information
Our billing experts are here to help with questions about your bills, insurance coverage and financial assistance for your care at HSS Florida.
You may be able to use our MyHSS patient portal to pay your bills for services at HSS. If your physician does not accept payments through MyHSS, they will provide you with other payment instructions.
If you do not wish to activate a MyHSS account or if your physician is not on MyHSS, you may still be able to pay your bill online. Visit our payments page or contact your clinician.
Insurance and Financial Assistance
HSS Florida is working diligently to provide care through as many insurance plans as possible. We are currently a participating provider with the following plans, and more are to follow.
Aetna
Aetna Medicare PPO
Cigna
Medicare Part B
Oxford
UnitedHealthcare
UnitedHealthcare Medicare
Until agreements are finalized with other carriers, HSS Florida is working with patients and their insurers to keep out-of-pocket costs as low as possible. Please note: Insurance participation does vary among some individual HSS physicians. Please confirm the participating status with the physician's office.
For more information or to ask questions, please contact our insurance team at 212.774.2607.
HSS Florida may be able to offer financial assistance if it is difficult for you to pay for your care. Aid may be available for patients who are uninsured or underinsured. We may also be able to arrange payment plans for those who need one. Learn more about our financial assistance program. To contact our financial assistance team, call 212.606.1505.
Safety Protocols
Our rigorous infection control protocols have been proactively expanded to minimize risk of exposure to the coronavirus. These extra precautions include:
Prescreening of all patients and visitors: All patients are first screened for COVID symptoms by phone, then will have their temperature checked and must complete another screening questionnaire upon arrival. Entrances are limited to ensure everyone is screened.
COVID-19 testing for all patients who are scheduled for surgery, and rescheduling any patients who test positive. Patients are required to have a nasal swab COVID test within 72 hours of their surgery and to self-isolate after the test until they come in for surgery.
Maintaining the use of appropriate personal protective equipment (PPE) for all staff and providing any patients who arrive without masks with surgical masks.
Social distancing protocols and reminders at all locations, including the removal of furniture to allow distancing and use of wayfinding stickers to indicate six-foot spacing.
The use of hand-hygiene stations at arrival and the installation of further stations throughout the facility.
Expanded infection control protocols including more frequent cleaning of high-touch areas.
Visitor Policies
We updated our Visitor Policies to ensure a safe environment for our patients, visitors, and staff.
One visitor is permitted for adult ambulatory surgery patients starting at patient arrival through the intake process until the patient is ready to go to the procedure space. The visitor may rejoin for the discharge process in the recovery area. Visitors may wait in designated waiting areas during the patient's stay. One caregiver may accompany pediatric patients throughout their hospital stay.
One visitor is permitted for adult patients attending an outpatient or office visit appointment, but we continue to encourage that companions join virtually, when possible, for the safety of our staff, patients, and visitors. Our staff can support patients in setting up this virtual connection (via FaceTime or Zoom). One caregiver may accompany pediatric patients to their appointment.
Exceptions to the Visitor Policy may be managed by our clinical team when it is medically necessary for a patient's wellbeing.
To prioritize the safety of our patients and staff, we encourage all visitors to get vaccinated against COVID-19 or obtain a (-) COVID PCR test within 5 days of the visit.
Diversity and Inclusion
HSS is committed to providing high-quality care to patients regardless of age, race, color, creed, ethnicity, religion, national origin, language, culture, socioeconomic status, physical or mental ability, veteran or military status, marital status, sexual orientation, gender identity or expression, or any other basis prohibited by federal, state, or local law or by accreditation standards.
Learn more about our diversity and inclusion educational initiatives at HSS.