Does it really make a difference where you get treated? Yes.
At HSS, the world's best clinical team will come together to provide the best spine care for you. From comprehensive nonsurgical treatments to complex and revision surgeries, our multidisciplinary team is dedicated to providing a personalized treatment plan for your condition, so that you can achieve optimal results.
Our commitment is reflected in our:
Expertise. Complex procedures are routine because everyone, from your surgeon to physical rehabilitation therapist, is a spine expert.
Precision. Our patients receive the highest level of personalization due to our direct translation of innovative research into customized care.
Results. We have pioneered less invasive procedures for the spine, which result in less pain, quicker recovery and superior long-term results.
Excellence. HSS tops the national lists for number of spinal procedures, nursing excellence, infection control and much more.
Spine Conditions and Disorders
Spine Surgeons
Physicians
Higher Surgical Volume Leads to Higher Quality
Research continues to demonstrate that the surgeons and hospitals that get the best results from spine surgeries tend to be the ones who perform those surgeries most often. Higher volume is correlated with lower rates of mortality, infection, pneumonia, and other complications. HSS performs more spine surgeries than other top national hospitals.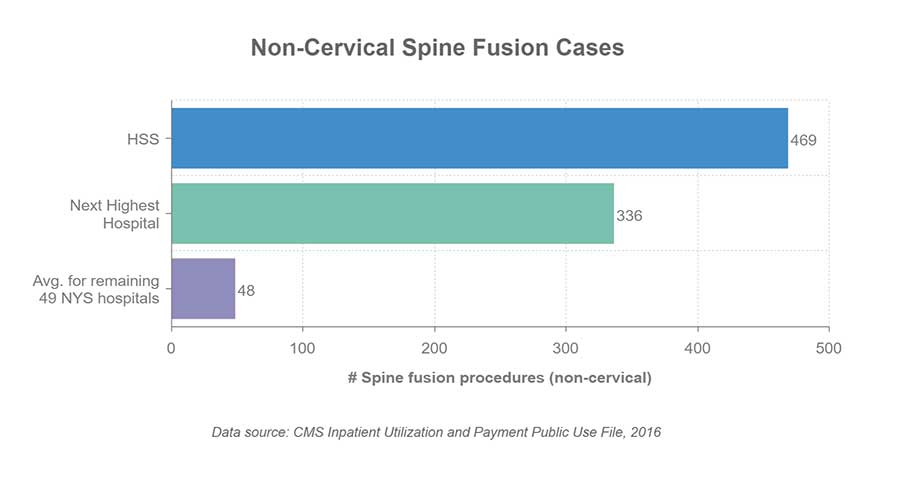 Outcomes Worth Talking About
Likelihood to Recommend is a key indicator of satisfaction with the outcome of treatment. We are proud that we have been in the 99th percentile on this measure when benchmarked against the similar hospitals in the Press Ganey database.
Spine Animations
Why choose HSS Spine? Our patients say it best.
Patient Testimonials