HSS is recognized as a world leader in orthopedics. HSS Florida brings that specialized focus closer to home for residents of the greater Miami area. The skill and experience of our care teams – which include orthopedic surgeons, sports medicine doctors, physiatrists, anesthesiologists, physical therapists, nurses and more – means that we can provide the best orthopedic care possible to our patients.
Patients who come to HSS Florida for their orthopedic care can expect a treatment and recovery plan personalized to their individual needs and lifestyle. The goals of care for each patient are to reduce or eliminate pain, improve functional mobility and restore quality of life as much as possible.
HSS Florida offers a wide range of orthopedic and sports medicine services, including outpatient surgery, nonsurgical orthopedic care, imaging services and physical therapy.
Outpatient Orthopedic Surgery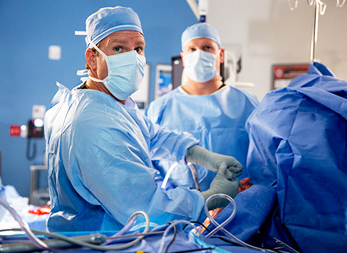 Patients at HSS Florida in West Palm Beach have access to world-class outpatient orthopedic surgery from our expert orthopedic surgeons. Each surgeon specializes in a specific area of orthopedics, including hand and upper extremities, shoulders, knee and hip replacements, spine surgery, sports medicine, and orthopedic trauma and injury.
The HSS Florida orthopedic team will work with you from diagnosis to recovery. Our expert radiologists, sports medicine doctors, orthopedic surgeons and physical therapists will:
accurately diagnose your condition or injury
develop an individualized treatment plan, whether that includes orthopedic surgery or noninvasive measures
design and support a recovery and reinjury prevention plan
Outpatient orthopedic surgery takes place at our ambulatory surgical center, HSS Palm Beach ASC.
Nonsurgical Care and Conservative Orthopedic Care
Many conditions and injuries do not require surgery. Our physicians and surgeons are experts in providing nonsurgical care plans that can address pain, limited range of motion and other musculoskeletal problems. Treatments we offer include various types of injections as well as casting and bracing.
Most office visits with the doctors at HSS Florida take place at our convenient location in West Palm Beach. In addition, all of our physicians offer virtual visits when appropriate.
Learn more about our nonsurgical care options.
Radiology, Imaging and Diagnostics
The best orthopedic treatment starts with the right diagnosis. At HSS Florida, we have state-of-the-art technology and imaging to assist in providing the best diagnosis possible. We use high-resolution digital X-ray and MRI in addition to the most advanced diagnostic techniques to ensure the right diagnosis and best possible care.
Physical Therapy and Sports Performance
HSS Florida Rehabilitation and Performance has expert physical therapists who can help treat injuries and pain in the hand, wrist, elbow, lower back and neck, as well as sports injuries and general orthopedic pain. Our sports performance specialists work with people who want to gain a better understanding of how their body works, so that they can prevent injury and be the best they can be in their chosen athletic field.
We offer direct access physical therapy with no prescription required. This service may be dependent on insurance.