Systemic lupus erythematosus (SLE, commonly known as "lupus") is an autoimmune illness in which parts of the immune system, which normally protect the body from foreign invaders and infection, malfunctions and attacks your body's healthy tissues instead.
Although there are several different forms of lupus, the classical lupus patient is usually a young woman with a combination of symptoms such as fever, swollen lymph glands, rashes (particularly butterfly-shaped rashes on the face), arthritis, fatigue, hair loss, chest and/or abdominal pain, oral ulcers, and neuropsychiatric problems such as headache, memory loss, mood disorders and/or confusion.
Lupus treatment options include nonsteroidal anti-inflammatory drugs (NSAIDs), corticosteroids, immunosuppressive drugs such as methotrexate, and experimental approaches such as intravenous immunoglobulin and vitamins/antioxidants.
While the cause of lupus is unknown, theories on its origin include involvement of lupus nephritis (inflammation of the kidney in lupus patients), genetics, infections, and the defective failure to process the products of an immune response. Although it is a lifelong condition, symptoms tend to cycle in alternate periods of flare-ups (also known as "flares") and remission. Those with lupus are at great risk of contracting kidney disease as well.
It may be time to contact a rheumatologist when confirming a diagnosis initially provided by a primary care physician or when disease management is necessary. The Division of Rheumatology at Hospital for Special Surgery is a premier department (top ranked by U.S.News & World Report) for the diagnosis and treatment of rheumatic and autoimmune musculoskeletal diseases.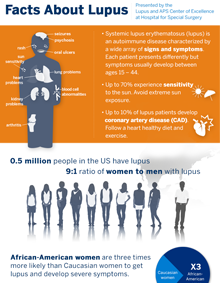 See our Facts about Lupus infographic for more facts and figures about lupus.

Needs Assessment for Men with Lupus
Help us improve lupus treatment for males by taking this 15-minute survey. Learn more about this important initiative.