Expert Care for the Most Complex Cases
The Stavros Niarchos Foundation Complex Joint Reconstruction Center is the first of its kind in the world. Under the direction of Thomas P. Sculco, MD, the mission of the Center is to provide best-in-class diagnosis and treatment for the most challenging cases in joint reconstruction and to conduct leading-edge research on the causes, prevention and treatment of implant failure.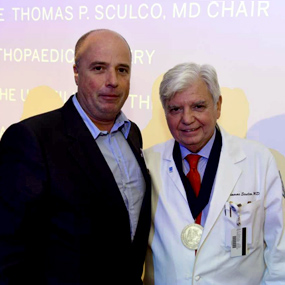 HSS receives $10 million grant from Stavros Niarchos Foundation
Given to the Center, the gift will support the expansion of its clinical research and education programs and will officially change the name to the Stavros Niarchos Foundation Complex Joint Reconstruction Center.
The Center serves as a single point of access to medical care for patients with complex joint disorders. These patients, who may be seeking care for either a complicated joint disorder or for treatment of an infected or failed implant, are often referred to HSS by practitioners from around the world because of the difficulty of their cases. They require the expertise that only HSS and its team of specialists can deliver.
The Center provides seamless coordination of care from renowned physicians and surgeons to achieve the best possible results for each patient and to make care less stressful and more cost effective.
Why choose HSS? Our patients say it best.

Case Reviews
The Stavros Niarchos Foundation Complex Joint Reconstruction Center offers case reviews. A surgeon will conduct an initial review of your case. Especially complex cases are also reviewed by a Case Review Panel (CaRP) that may include surgeons, internists, and special consultants. After the completion of the review or reviews, a comprehensive recommendation is made. The case review fee is $500.

Contact the Center
To schedule an appointment with one of our surgeons, please call or email us directly.