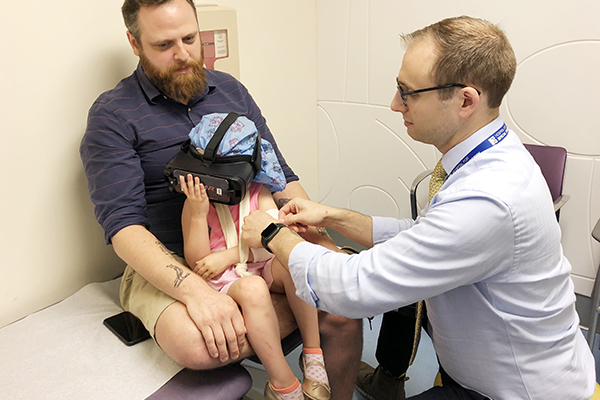 At Lerner Children's Pavilion, virtual reality is providing patients with an experience that's out of this world. Just the other day, 11-year-old Lila Paul launched dodge balls at flying teddy bears via a virtual reality headset, having so much fun she barely noticed that pins were being removed from her elbow.
About a month earlier, Lila had taken a tumble and fractured her elbow. Dr. Peter Fabricant, a pediatric orthopedic surgeon at HSS, performed the surgery. Typically, during the procedure, pins are inserted through the skin and into the bone, and then a cast is applied. After healing takes place and the cast is removed, patients like Lila are left with several slim pins that stick out about an inch from their skin. The next step is to remove the pins, and although not painful, it can be scary for patients.
The virtual reality – or VR – headset worked like a charm for Lila, her mom says. As soon as her daughter put it on, she was transported to another world. "She breezed through the pin removal," says Chandrabali Ghose-Paul. "I was feeling queasy watching it, but the pins came out one right after the other, and Lila didn't mind."
Lila, a fencing enthusiast who has won medals for the sport, agrees. "The game was really cool; it distracted me from the pins being taken out. I was surprised when they finished and wanted to keep playing. I would definitely recommend it for other kids."
VR Content Designed for Patients
The virtual reality game used at Lerner Children's Pavilion is an immersive, interactive experience with content specifically designed for patients. "It can be particularly helpful during stressful situations, including transitioning from one hospital area to another, such as from the holding area to the operating room," says Dr. Lisa Ipp, Chief of Pediatric Medicine at HSS. "It is also used during procedures, including the removal of casts and sutures. We have found that VR works well in reducing both patient and parent anxiety."
Patients can choose from four games and 17 experiences, such as swimming with dolphins, visiting a farm or taking a trip to Iceland. Bear Blast, in which patients move their head to knock down teddy bears with dodge balls, is the most popular.
"Virtual reality programming has been a great addition to our distraction toolkit for kids and teens," says Peyton Katz, pediatric patient and family care coordinator. "We have patients who've had procedures before we had VR here, as well as afterwards, and they all say the goggles made the experience less anxiety-provoking and overall much easier."
Dr. Fabricant, Lila's doctor, is enthusiastic about VR. "It's an immersive environment in which the child is fully engaged in a fun activity, and it shields their eyes from the procedure. It can be distressing for kids when they see a metal pin coming out of their skin that's about to be removed with pliers. Pin removal is not very painful in and of itself, but it can provoke anxiety."
Dr. Fabricant says that before acquiring the VR device, parents would try to calm their children by talking to them, reading them a book or having them watch a video on an iPad or a cell phone. "Even though we tried to distract them, they would still see someone coming at their arm. They would look over and no longer be distracted," he explains. "The benefit of VR is that they're fully engrossed in the virtual reality game, so even if they go to look at their arm, it will only change their view of the game. They are totally immersed, and most of the time, they don't realize that the pins came out because they're still playing."
New HSS Study to See How VR Helps Patients
HSS has just launched a study to see how much virtual reality really helps patients in the hospital setting. Researchers will measure the patient's heart rate and other indicators of stress during procedures using VR compared to other forms of distraction. The study will also survey patients and parents to determine the effect of virtual reality on pain and anxiety.