Surfing, skiing, horseback riding, and rock climbing. This year, young patients with cerebral palsy and other physical challenges participated in activities they never dreamed possible courtesy of the Adaptive Sports Academy at Lerner Children's Pavilion. The trips are offered to young people under the care of an HSS physician or rehabilitation therapist.
Adaptive sports are competitive or recreational activities for people with disabilities. Sometimes rules or equipment is modified to meet their needs. "We sought to offer our patients and their families the opportunity to participate in experiences that they may never have tried before," said Dr. Lisa Ipp, chief of Pediatric Medicine at HSS. "We also thought it would be meaningful to have our staff members, including their physical/occupational therapists and surgeons, join them. We are so fortunate to have generous donors who fund this program, and it has benefited so many pediatric patients."
Siobhan Clarke, a physical therapist in the Pediatric Rehabilitation Department, has gone on both skiing and surfing trips and says it's an awesome experience for patients. "The trips build self-confidence, encourage independence, and increase physical activity and mobility," she notes. "People not only experience the benefits of exercise; they always feel empowered after trying a new activity and succeeding."
Riding the Waves on Long Island
In August, 17 patients were thrilled to experience the big waves in Long Beach, Long Island during the Academy's first adaptive surfing trip. Young people with cerebral palsy or another condition affecting body movement, muscle control, posture and balance took advantage of the opportunity. They ranged in age from 5 to 21.
Some of the participants who normally use crutches or a walker needed a wheelchair to navigate the sand and get to the water. But that didn't stop them from getting on the surfboard for an exhilarating experience.
It was the academy's first surfing trip, enabling patients like Sidorela to participate in an activity she was eager to try. A 21 year-old college student with a lovely smile and gentle demeanor, she soaked up the sun until it was her turn to ride the waves. "It was thrilling… the water was so cool. My muscles are tight, and sometimes I have spasms, but it felt like they loosened up in the water, she said."
Twelve year-old Aidan, hesitant at first, could barely contain his excitement after he rode his first wave. As the event was winding down, he pleaded for one last ride and dashed toward the water when his instructor was ready to go.
The kids learned to surf from the best of the best. World-class surfers Will and Cliff Skudin provided the lessons, along with their specially trained staff at Skudin Surf. "It was a great day full of smiles, and the kids really took to the waves pretty quick - so stoked to be part of such an awesome event," Will said.
Lying face down on her small surfboard, 5 year-old Brooklyn cried out with excitement as she rode a wave onto shore with her instructor. "She's having a good time, so I'm having a good time," said her mom, Andrea, smiling broadly. "How can you beat this? This is surfing for a child with disabilities. That's as good as it gets."
Riding High in Westchester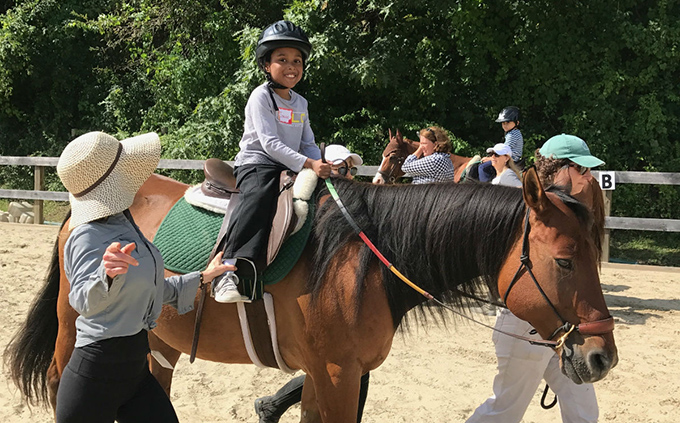 The next trip to delight HSS patients was a horseback riding outing. Endeavor Therapeutic Horsemanship in Mount Kisco welcomed patients, their parents and HSS staff to their farm in August. Studies have shown that equine-assisted activities and therapies are beneficial for people with a broad range of disabilities.
"The benefits include improved posture, muscle tone, and gait patterns. These gains can lead to functional improvement in everyday activities like walking, jumping, and running in children with cerebral palsy," said Christina Pierozzi, an occupational therapist in the Pediatric Rehabilitation Department at HSS. "Children with CP can also have muscle imbalances or spasticity, which can impair their motor skills. Participating in a therapeutic riding program can help overall muscle balance, which improves standing and walking."
In addition to being treated to a beginner riding lesson, participants had the chance to learn about horses, gently brush them in the barn, and enjoy equine-themed arts and crafts activities.
Sixteen year-old Julian, apprehensive at first, enjoyed the experience. "It took me about five minutes to get used to it, and I started riding the horse. It's like a motorcycle with legs, and it feels nice," he said.
Learning that Nothing is Out of Reach
If anyone had a fear of heights, it certainly wasn't apparent on the two other adaptive sports trips this year. A group of teenagers had the chance of a lifetime to go skiing at Windham Mountain in upstate New York.
"A few of the surgeons usually come along on the ski trip, which makes the day really special," said Peyton Katz, pediatric patient and family care coordinator at HSS. "We have patients who have been seeing doctors at HSS most of their lives, and they now have the opportunity to ski alongside their physician."
At Windham, participants are matched with trained volunteers from the Adaptive Sports Foundation. The volunteers adapt ski equipment to meet the individual's needs and accompany the skier down the slopes. Being paired with the volunteers makes the kids comfortable when engaging in the new activity. Often, they are inspired by other children who have already participated.
Rounding out the Sports Academy offerings this year was a trip to Brooklyn Boulders, an indoor rock-climbing facility. HSS has partnered with the Adaptive Climbing Group, a program of the Brooklyn Boulders Foundation, to ensure a first-rate experience.
The climbing wall is 35 feet high, and most of the kids are thrilled to make it to the top. Parents are proud and excited to see what their children can accomplish. Since the facility is closer to home, families can visit it on their own, promoting exercise, movement and fun for their children year-round.
"Often, patients and their families start out a bit nervous, wondering if they will be able to participate," says Dr. Ipp. "Then the joy and surprise on the children's and their parents' faces when they are able to rock climb, horseback ride, surf or ski is truly amazing."