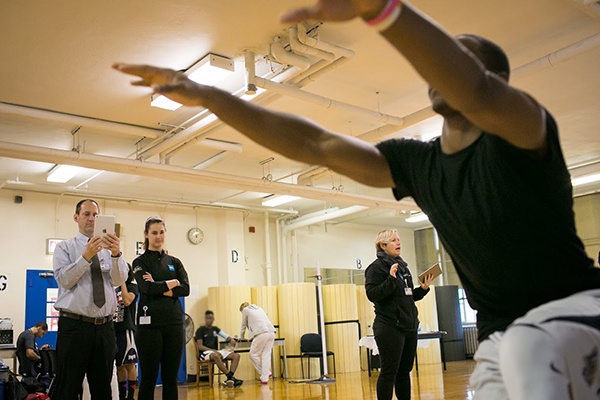 In the 1980s, a renowned pediatric orthopedic surgeon at HSS realized it was not uncommon for young people in underserved communities to have bone and joint conditions that were undiagnosed. Leon Root, MD, was a pioneer in pediatric orthopedic surgery. He was also a kindhearted and compassionate doctor who believed everyone deserved the same access to quality healthcare.
In 1987, Dr. Root launched the Pediatric Outreach Program, known as POP. HSS physicians and other health professionals went into schools in diverse communities in New York City to provide free bone, muscle and joint evaluations. Undiagnosed scoliosis and other conditions were often detected, and students would be referred for treatment.
The evolution of POP
Over the years, the free program has expanded to meet the needs of today's active young people in the city's middle schools and high schools. As leaders in sports medicine and pediatric orthopedics, clinicians at HSS noted that sports injuries were on the rise, particularly in young athletes. To address this issue, POP changed its focus in 2016 to offer sports injury prevention screening.
Since then, a team of HSS orthopedic surgeons, physical therapists, nurses and sports performance specialists has screened hundreds of student-athletes. They travel to schools to assess students' blood pressure, heart rate and vision and also analyze their movements. The goal is to detect bone, muscle or joint problems related to sports. The team also looks for deficiencies in flexibility, strength, balance and posture.
As a result, more than 70 young people have been referred to HSS for follow-up care for scoliosis or to evaluate back, knee or hip pain. In many cases, athletes go to physical therapy and are prescribed exercises for core strengthening and stretching and to improve range of motion.
Knowledge is power in injury prevention
POP supports the mission of HSS by providing high-quality care to young athletes from diverse communities. "One of the important goals of the program is to introduce student-athletes to the principles of injury prevention and proper movement patterns to play their sports safely," says Daniel Green, MD, MS, FAAP, FACS. Dr. Green is a pediatric orthopedic surgeon at Lerner Children's Pavilion who helps lead the program with pediatric sports medicine specialist Peter Fabricant, MD, MPH. "Many studies have shown that injury prevention programs are effective in reducing sports-related injuries in adolescents."
So far this year, the HSS team has conducted 10 screenings. They've evaluated athletes in volleyball, basketball, football, soccer and other sports. "The way an athlete moves while participating in a sport plays a critical role in injury prevention," says Joseph Molony, MS, SCS, CSCS, a physical therapist and a team leader of POP. He and colleagues assess the young athletes' movement patterns by watching them perform various exercises, such as squats and jumps. "We educate athletes on ways to move correctly and prepare properly for their athletic activity. This greatly reduces the risk of injury."
"The POP program is also important because it allows for early detection and management of orthopedic conditions," explains Mr. Molony, who is also coordinator of the Young Athlete Program at HSS. "An injury that's 'no big deal' to a kid could turn into something serious if not addressed properly."
Playing it safe now and in the future
Last year, POP added an educational workshop that takes place one to two months after the athlete screening. Physical therapists return to participating schools to further educate students and coaches about injury prevention. A wealth of information on sports safety is also available to coaches on the HSS website.
Coaches and athletic directors applaud the free, high-quality care the program offers, says Vilma Briones, manager of Public and Patient Education at HSS. They appreciate the opportunity for young athletes to gain valuable information about sports safety and be evaluated for sports injuries. The students have expressed their gratitude as well.
To find out more about the POP program, call the pediatric outreach team at 212-774-2886.