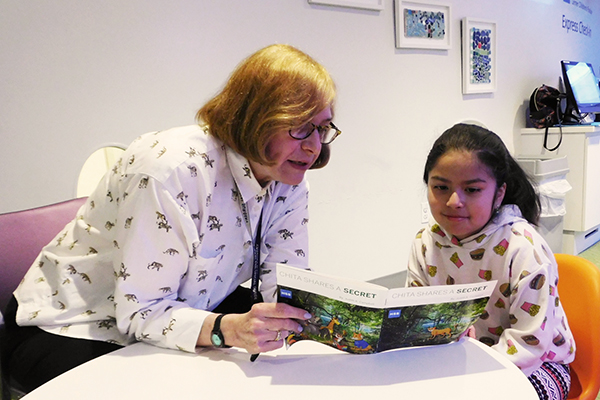 A diagnosis of lupus can be hard on children – and just as difficult for their parents. Judy Campbell, a volunteer at HSS (pictured above), set out to make things easier for families dealing with the disease. She has firsthand knowledge of lupus, having lived with it most of her adult life.
As part of the LupusLine® Program at HSS, Ms. Campbell provides support and education over the phone to people with lupus and their loved ones. She is also a writer, and when staff in the Department of Social Work Programs found out she had written a successful children's book, they asked if she might want to create one for kids diagnosed with lupus.
Ms. Campbell says she was thrilled to be able to help. The book, Chita Shares a Secret, geared toward kids ages 6 to 11, explains the illness in terms a child can understand. The story comes alive with a cast of jungle characters and bright, colorful illustrations. Ms. Campbell aimed to convey a positive message for young patients – and their parents – so they would gain the courage to cope with a difficult illness.
Lupus: When the immune system turns on itself
Lupus causes the body's immune system, which is supposed to protect us from illness and infection, to attack healthy cells and organs by mistake. It can affect many parts of the body and is often unpredictable. Common symptoms include fatigue, headaches, joint pain or swelling and a rash on the face or elsewhere on the body. The kidneys and other organs may be affected. The disease causes more severe symptoms in certain patients.
Ms. Campbell understands lupus all too well. It took years for her to obtain a firm diagnosis, and she has faced a number of health challenges. She sought care at HSS and has firmly resolved to live a full and happy life. She has pushed through flare-ups, pain and several surgeries. Instead of dwelling on her illness, she considers herself fortunate for the many opportunities she has had throughout her life. Happy with the care she received at HSS, she also wanted to give back.
"I was lucky enough to be born with the genes of determination, bravery and optimism," she explains. And those are the messages conveyed in the book. "I wanted to make sure there was a positive resource for patients and parents to reinforce that it's OK to have lupus."
An age-appropriate resource, and a friendly cheetah
The story takes place in the jungle, where a cheetah named Chita has lupus. Dr. Hippopotamus is the kindhearted doctor who explains the disease and gives advice. Chita is sometimes too tired to play with her jungle friends and is afraid, at first, to tell them about her illness. She finally explains her symptoms to her friends and answers their questions. The animals are all very supportive, providing a message of acceptance and encouragement. In the end, they give Chita a t-shirt that says "Chita the Brave."
The book gets excellent reviews from pediatric rheumatologists at Lerner Children's Pavilion and other hospitals around the country. HSS has printed more than 700 hard copies and covers the cost of mailing them to health professionals nationwide. (The book is also available online.)
"Research shows that children are being diagnosed with lupus at a younger age, and there are limited age-appropriate resources to educate them and their families about the condition," says Priscilla Toral, manager of LupusLine®. "The book provides doctors and the healthcare team with an age-appropriate tool to discuss a diagnosis of lupus, its symptoms and treatment. Adult lupus patients can also use the book to explain their condition to their children."
The author couldn't be happier that the book has been well received. "I'm so excited that it's out there and people love it," says Ms. Campbell. "It is the first and only resource of its kind, as far as we know, that physicians can give to young patients and, more importantly, to their parents, who are the ones most devastated by the diagnosis. It's a very positive, upbeat book."
Fostering a community for a chronic illness
Comments from recipients show it's made a difference. "This is a wonderful resource; we use [the books] for our patients and include them in our new patient packets," wrote Duke pediatric rheumatology staff. "The story made me cry," said a health professional at Seattle Children's Hospital.
"This book helps pediatric lupus patients come to terms with a new and difficult diagnosis, while giving them the courage to broach the subject with their family and friends," says Sarah Taber, MD, who treats young patients with lupus. "It is written in straightforward, basic language that even young children can understand, and illustrated with eye-catching, engaging drawings. Families have been delighted to receive the book." One such patient is 11-year-old Elizabeth Lopez, who was recently diagnosed. She has shown the book to her friends to help them understand her illness.
Clever illustrations make the story come alive. "The author wanted to convey a sense of belonging and security," explains Steven Portera, executive producer in the Creative Services Department at HSS, who illustrated the book. "Working with the lupus group and the author was fun, and obviously the outcome is and will continue to be extremely rewarding. I know firsthand how hard it is to be a kid with a chronic illness and how difficult it can be most times to blend in with your friends. If this project helps just a few kids feel a little better, then it's all worthwhile."