Frozen Shoulder (Adhesive Capsulitis)
You have pain in your shoulder, especially while reaching overhead, into your back pocket, and dressing yourself. If you experience these symptoms − even if you have no memory of injuring yourself − you may have frozen shoulder.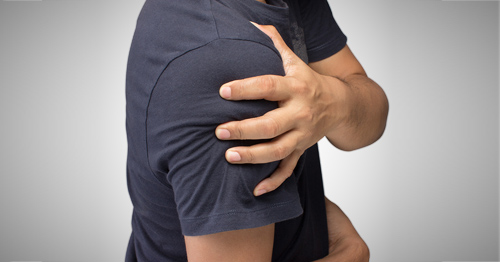 What is frozen shoulder?
Frozen shoulder, also known as adhesive capsulitis or shoulder contracture, is a condition where the synovial membrane – a soft tissue that forms a protective capsule around the shoulder joint – swells, thickens and contracts. Scar tissue forms, leaving less room for the upper arm to move around. This causes pain and restricts movement in the shoulder. The cause of this condition is unknown, but it often occurs in people who have other inflammatory disorders. Other people develop frozen shoulder after an injury or period of immobilization, such as after a traumatic fall or surgery.
What are the symptoms of frozen shoulder?
Early symptoms include unexpected shoulder pain and difficulty raising the arm above the head or across the body. Usually only one shoulder is affected, but about one-third of patients experience symptoms in both. If you experience these symptoms, see a doctor immediately. If left untreated, this condition will worsen and can last two years or longer.
Early symptoms of frozen shoulder
The full range of symptoms may arise over a period of around two years, but early symptoms include:
pain in the shoulder, especially unexpected pain, when no known injury is present
difficulty lifting one's arm above the head
difficulty extending one's arm across the body or reaching behind the back
The four stages of frozen shoulder
Typically, these particular symptoms will appear in four stages over about 24 months:
Stage 1, months 1-3: Shoulder pain, often worse at night, which causes you to limit your arm movement.
Stage 2, months 4-9: The "freezing" stage of progressive stiffness, where pain continues (although it may lessen) but you experience decreased ability to move your shoulder properly.
Stage 3, months 10-14: The "frozen" stage, where the shoulder is stiff but no longer hurts when you are not moving it.
Stage 4, months 15-24: The "thawing" stage, where your ability to move your shoulder gradually returns.
What is the main cause of frozen shoulder?
Frozen shoulder is an inflammatory process that usually appears unexpectedly with no known cause. There are, however, certain factors that put some people at greater risk for getting frozen shoulder, including evidence to suggest that some people are genetically predisposed to it.
Who is prone to frozen shoulder?
People who have thyroid disease, diabetes, an autoimmune disease, and/or injury, stroke, heart attack, or prolonged immobilization are also at higher risk to develop frozen shoulder. Most patients are between ages 40 and 65, and women are affected more commonly than men. Occasionally, however, younger men and women without any of the above risk factors will develop frozen shoulder.
How is frozen shoulder diagnosed?
Your doctor will take your medical history, have you describe your symptoms and conduct a physical exam, including testing your range of motion. The stiffness associated with frozen shoulder can make this difficult, depending on which stage of the condition is present at the time. A magnetic resonance imaging (MRI) exam is often needed to confirm the diagnosis by distinguishing it from other conditions that have similar symptoms, such as shoulder arthritis or calcific tendonitis. An MRI of a shoulder with adhesive capsulitis will display significant thickening of the joint capsule.
What is the treatment for frozen shoulder?
The goal of treatment is to reduce the underlying inflammation and prevent your shoulder from becoming stiff. Nonsurgical treatment is the first option and works well with an early diagnosis. Surgical treatment is a second option that is appropriate for severe cases or where nonsurgical treatment is unsuccessful.
Nonsurgical treatment is usually mix of physical therapy and medication. Physical therapy is an important part of any treatment, because progressive stretching is needed to restore lost range of motion. Rehabilitation treatment may include the use of therapeutic ultrasound. At HSS, you will receive a thorough evaluation by a physical therapist and/or occupational therapist who will create an individualized rehab plan.
Your doctor may also prescribe oral anti-inflammatories, pain medication, corticosteroid injections, or some combination of these remedies. A steroid injection is helpful especially during the early stages of frozen shoulder and will ease your pain and improve the range of motion in your shoulder. These injections are often done under image guidance using ultrasound or an X-ray to make sure the injection is accurately administered into the shoulder joint.
What is the surgery for frozen shoulder?
If nonsurgical treatments are not providing relief for someone with adhesive capsulitis, various surgical options are available: manipulation under anesthesia, hydrodilatation, or release of the joint capsule using shoulder arthroscopy (a procedure called arthroscopic capsular release).
Manipulation under anesthesia
Also known as "closed manipulation," this is a non-invasive procedure that involves no incisions. The patient is put under regional anesthesia and the surgeon moves the affected shoulder through its full range of motion. This breaks up the scar tissue to improve shoulder mobility.
Hydrodilation
This procedure (also sometimes called capsular distension, hydroplasty, hydraulic distension, hydrodistension, or distension arthrography) involves injecting saline solution into the into the glenohumeral joint capsule until it bursts, breaking up the scar tissue that is causing the stiffness. Hydrodilation is done in patients who have reached Stage 2 frozen shoulder.
Arthroscopic capsular release
Usually performed on patients who are in the second or third stage of adhesive capsulitis, this form of shoulder arthroscopy surgically releases the scar tissue. This is sometimes performed in conjunction with a manipulation under anesthesia.
How long is recovery from frozen shoulder surgery?
After surgery, patients are usually in a sling for comfort for a week or two, but aggressive range- of motion physical therapy starts almost immediately so that the scar tissue doesn't reform. During the first six weeks after surgery, there is a strong focus on regaining range of motion. Therapy will then progress to strengthening with a gradual return to sport by about three months after surgery, assuming range of motion and strength are near normal.
Physical therapy is important for your recovery following surgery. Your physical therapist will prescribe exercises that help you keep the range of motion you gained in surgery.
How successful is surgery for frozen shoulder?
When conservative, nonsurgical treatments fail, surgery can be very successful at restoring full range of motion.
Treatment for frozen shoulder at HSS
Hospital for Special Surgery is continually ranked #1 nationally for orthopedics by U.S. News & World Report because each of our physicians is hyper-focused on treating specific injuries and conditions. This allows them to acquire unparalleled expertise through experience. HSS sports medicine surgeons perform thousands of shoulder arthroscopies a year. In addition, getting an accurate diagnosis for frozen shoulder requires high-quality MRIs and expert radiologists to interpret them. HSS MRIs are performed utilizing high-matrix imaging/thin sliced imaging and, like all our other doctors, HSS radiologists focus only on musculoskeletal imaging. They also collaborate closely with researchers in our MRI lab to enhance the science of magnetic resonance imaging.
Updated: 5/24/2023