Baseball
Hospital for Special Surgery is the Official Hospital of the New York Mets and five other professional sports teams in the New York area. Our doctors treat hundreds of elite and professional athletes each year, and care for weekend warriors alike. Please find articles and videos below related to injuries and conditions affecting baseball players.
Baseball Infographic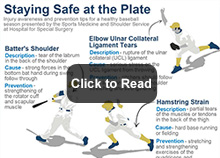 HSS Video: Johan Santana - A Pitcher's Return

Sports Medicine and the Major Leagues follows the NY Mets star player's story from surgery to his return to play.
Articles and Videos on HSS.edu:
Back in the Game Patient Stories