Do you want bilingual (Chinese/English) materials that you can share with your family members and friends?
LANtern offers bilingual resources about lupus that specifically address issues important to the Chinese community. They are designed to help you and your loved ones understand lupus. They may also help to facilitate discussion around how to cope with the impact of having this chronic illness. You can read them online, download them, or request free single copies to be sent to you. For specific medical advice, seek the services of your personal health provider.
Brochures
Lupus: Myths & Facts. This publication addresses common misconceptions about lupus, answers questions about the disease, and explains basic facts about lupus in a way that is easy to understand.
Talking About Lupus. It can be hard to talk about lupus – with both your doctor, as well as family and friends. This publication provides tips to make it easier.
LANtern Information Sheet. This postcard contains a description of LANtern's services and how we can be reached.
Booklets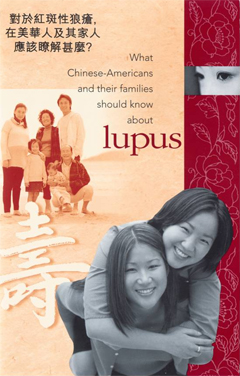 What Chinese Americans and Their Families Should Know About Lupus. If you have been recently diagnosed with lupus or have been living with it for some time, this award-winning 20-page booklet will help you manage the illness with strength and sensitivity. For a free copy of this booklet, please see directions below for ordering a publication below.
For Inquiring Teens with Lupus: Our Thoughts, Issues, & Concerns
If you are a teenager with lupus, this booklet written by a young woman diagnosed with lupus as a teen has an "insider" perspective. This booklet takes into account some of the specific issues, both medical and emotional, relevant to teens living with the illness. It is available in both English and Chinese.
English
Ordering
To order free printed copies of any of these publications, please call 212.774.2508 or email lantern@hss.edu with the following: your name, your mailing address, the requested brochure(s), and if you'd like to be included in our mailing list of LANtern events.
Back to LANtern® (Lupus Asian Network)