Case Example
A 36-year-old male fell while skiing and sustained a right-sided displaced comminuted mid-shaft clavicle fracture. He presented to Dr. David L. Helfet at the HSS Orthopedic Trauma Service with ecchymosis and bruising near the fracture site and paresthesia in his right hand appearing to originate in the posterior radial nerve distribution without motor weakness. Operative reduction and internal fixation was performed with placement of a contoured 3.5 mm pelvic reconstruction plate. He continues to return for regular follow-up and at 10 weeks radiographs show a healing clavicle fracture with maintenance of reduction and fixation and presents with paresthesia symptoms.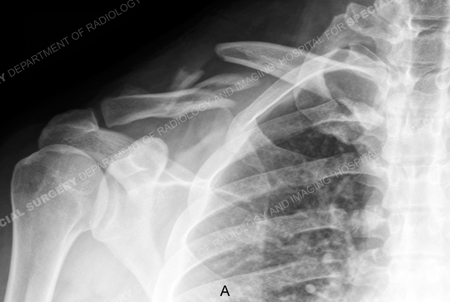 Anteroposterior x-ray revealing a right-sided displaced mid-shaft clavicle fracture.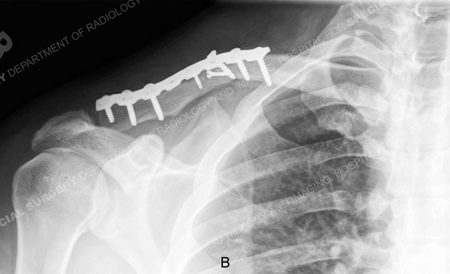 X-ray taken at 10 weeks reveal a healing clavicle fracture.
Research Publications
The HSS Orthopedic Trauma Service has conducted many studies. Please see our publications on clavicle fractures.