Case Example
A 48-year-old female was referred to Dr. David L. Helfet, 2 days following a fall from a standing height onto her left upper extremity. Radiographs revealed a periprosthetic fracture above a cemented total elbow replacement and below a cemented humeral component of a total shoulder replacement. Her history was also significant for osteoporosis. Open reduction and internal fixation (ORIF) was performed with placement of a 3.5mm extra-articular distal humeral locking plate posterior-laterally and a 3.5mm reconstruction plate along the medial column in a 90-90 construct with multiple interfragmentary lag screws. She returned for routine follow-up and at 7 months radiographs illustrate a healed periprosthetic humerus fracture and she has returned to activities of daily living with resolution of pain.
Carroll EA, Lorich DG, Helfet DL: Surgical management of a periprosthetic fracture between a total elbow and total shoulder prostheses: a case report. J Shoulder Elbow Surg. 2009 18(3):e9-12.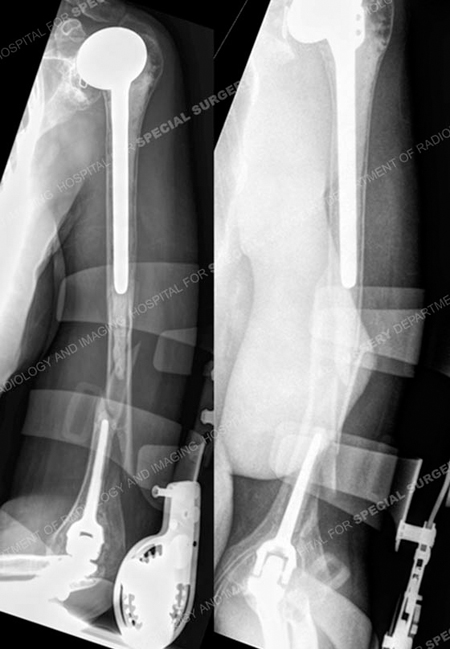 Anteroposterior, oblique and lateral radiographs revealing a periprosthetic humerus fracture between a cemented long stemmed humeral component and a cemented standard length elbow component.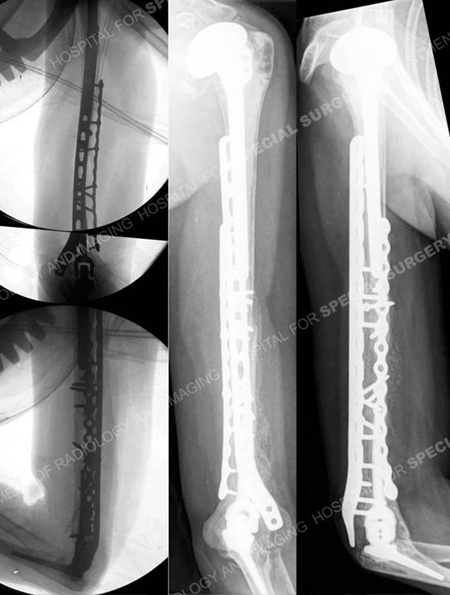 Anteroposterior and lateral fluoroscopic images (left images) demonstrating adequate fixation and alignment following open reduction and internal fixation and radiographs at 7 months postoperatively (right images) demonstrate a healed periprosthetic humerus fracture.
Research Publications
The HSS Orthopedic Trauma Service has conducted many studies. Please see our publications on fractures with underlying osteoporosis, elbow fractures, humerus fractures and use of locking plates in fracture treatment.