Upper Extremity Nonunions & Unhealed Fractures
Case Example
Upper Extremity (Humeral) Nonunions
A 64-year-old female sustained a left-sided proximal humerus fracture (AO/OTA Type 12-A2.1) and was initially treated at an outside hospital with a functional fracture brace. She was referred to David L. Helfet, MD at the Orthopedic Trauma Service of Hospital for Special Surgery 4 months following her fracture and radiographs revealed a nonunion. Open reduction and internal fixation was performed with placement of a locking plate and reconstruction plate in a 90-90 orientation with placement of supplemental bone graft and placement of interfragmentary lag screws. She returned at regular follow-up intervals and healed uneventfully at 3 months following fracture surgery. At her latest follow-up visit at 14 weeks she has an excellent range of motion and has returned to all pre-injury activities.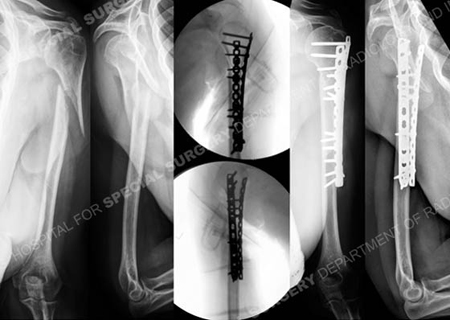 Pre-operative anteroposterior (AP) and lateral radiographs (left images) of an AO/OTA type 12-A2.1 proximal humeral nonunion, intraoperative fluoroscopic AP and lateral images (center images) demonstrating acceptable reduction and placement of hardware and AP and lateral radiographs (right images) 14 months following fracture surgery revealing a healed proximal humerus nonunion.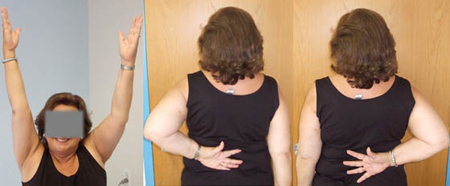 Clinical photographs demonstrating excellent range of motion.
Research Publications
The HSS Orthopedic Trauma Service has conducted many studies. Please see our publications on humerus fractures, nonunions, and bone graft substitutes.