Case Example
A 19-year-old female fell while bicycling at a high speed and sustained an open fracture (Grade IIIA) of the distal humerus and presented through our affiliated Emergency Department at NewYork-Presbyterian Hospital and she was placed under the care of
Dr. David L. Helfet. Radiographs revealed a left-sided complex bicondylar distal humerus fracture with segmental bone loss. Following multiple Irrigation and Debridement (I&D) procedures a spanning external fixator was placed for initial stabilization and a skin graft was also placed. Operative reduction and internal fixation (ORIF) was performed at 2 weeks following her injury with placement of bone graft and multiple plates and screws. She returned for regular follow-up visits and had an excellent outcome. At 25 months postoperative her radiographs reveal a healed distal humerus fracture and clinically she had no pain with range of motion of the left elbow from 0 to 110° with full supination and pronation.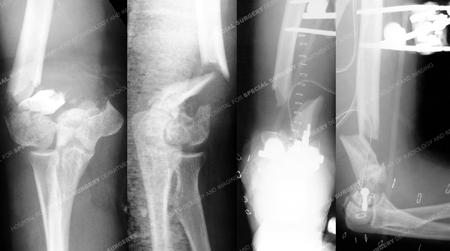 Anteroposterior and lateral x-rays revealing a left-sided bicondylar distal humerus fracture (2 left images);
x-rays following placement of a spanning external fixator (2 right images).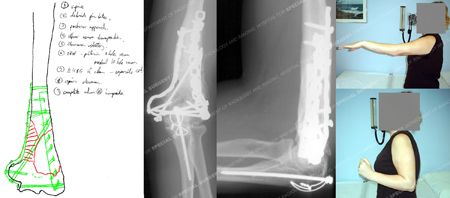 Pre-operative plan (left image) for placement of bone graft and plate and screw fixation placed in
a 90/90 fashion; x-rays at 25 months (2 middle images) illustrating a healed distal humerus fracture;
clinical images at 25 months (images on top-right and top-bottom) and illustrating excellent range of motion.
Research Publications
The HSS Orthopedic Trauma Service has conducted many studies. Please see our publication on humerus fractures, elbow fractures, external fixation in fracture treatment, and open fractures.