Lengthening Limbs One Millimeter at a Time
During his first climb of the morning on Ragged Mountain in Connecticut, Graham Seaton lost his footing and fell 35 feet, landing with full force on his right leg. The October 2005 accident left him with catastrophic fractures below the knee. Despite initial treatment, Mr. Seaton's ankle joint was destroyed and he had limb threatening bone loss. To repair the devastating injury would require a limb salvage reconstruction by S. Robert Rozbruch, MD, and David S. Levine, MD, including an ankle fusion and simultaneous leg lengthening.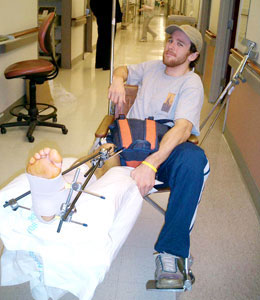 Graham Seaton with his external frame, which was put in
place after his ankle fusion and limb lengthening surgery.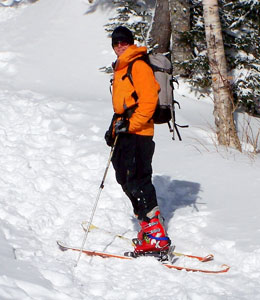 Today, Mr. Seaton is back on the mountain,
skiing, mountaineering, and ice climbing.
John Kuklis fractured his femur and thigh bone and injured a nerve in his leg during a car accident more than 30 years ago. The femur fracture left him with a leg length discrepancy and a very significant deformity that caused him to walk on the side of his foot. Over time, the deformity worsened, leading to severe degenerative arthritis of the ankle joint. "The ankle arthritis was in many ways caused by the deformity," notes Dr. Rozbruch, "and, at the same time, the deformity increased with the ankle arthritis. Mr. Kuklis was in a lot of pain and his foot was completely curved sideways." Dr. Rozbruch reconstructed the ankle by straightening the deformity and fusing the ankle joint, which provided stability and finally enabled Mr. Kuklis to be able to place his foot flat to the ground.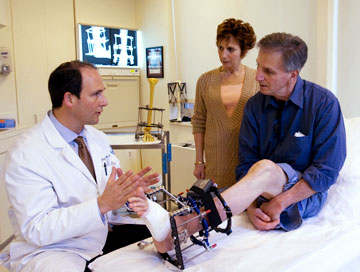 Dr. S. Robert Rozbruch evaluates the progress of John Kuklis
as his wife, Charlene, looks on. Mr. Kuklis' significant foot and
ankle deformity and leg length discrepancy was caused by
a trauma decades earlier that made walking difficult and
corrective surgery necessary.
One inch, two inches…even 12 inches of new bone can be grown to address limb length discrepancies such as those experienced by Mr. Seaton and Mr. Kuklis thanks to amazing techniques pioneered by Dr. Rozbruch, Chief of the Adult Limb Lengthening and Complex Reconstruction Service established at Hospital for Special Surgery in 2005. A relatively new field in the United States, limb lengthening techniques were developed by Professor Gavriil Ilizarov in Russia in the 1950s. Today, Professor Ilizarov's daughter, Svetlana Ilizarov, MD, joins Dr. Rozbruch and Austin T. Fragomen, MD, who comprise the Hospital's adult limb lengthening program. With few surgeons in this field, the Hospital's team is calling on a wealth of experience and a high volume of cases to create practice standards and establish guidelines for many of these treatments.
These techniques are being used to treat both adults and children with the following conditions:
post-traumatic injuries, including bone healing problems
congenital conditions, including dwarfism and short stature
growth disturbance from trauma or infection
severe bone defects and deformity of the hip, femur, knee, tibia, ankle and foot
Limb lengthening and reconstruction involves the replacement of missing bone to correct deformed bone segments in both the upper and lower extremities. Surgeons cut and gradually distract the bone to enable new bone to grow at the site of the defect without injecting or inserting any synthetic material or performing bone grafts. "We make the cut through a very tiny incision," explains Dr. Rozbruch. "A computer assisted deformity correction system enables us to make very precise and simultaneous corrections in three planes." Every patient has his or her own data file that includes deformity, mounting, frame and numerous other parameters collected during surgery. The computer program then uses these data points to guide the development of a schedule of adjustments for that patient.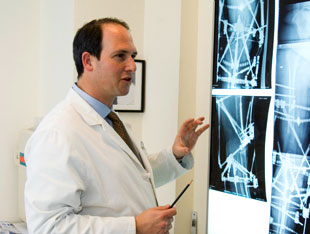 Dr. S. Robert Rozbruch reviews post-operative images of
a patient who has undergone limb lengthening surgery.
"We wait a week following surgery before starting the process of gradually, slowly, pulling apart the bone using external fixation frames," says Dr. Rozbruch, who see patients during the lengthening phase every 10 to 14 days to monitor the process. "Our job is to straighten, lengthen and make the body symmetrical. The bone grows naturally, and by pulling it apart very, very slowly—a millimeter per day—it regenerates by about one inch per month. In essence, we are tricking the body into thinking it has a broken bone so it grows new bone and heals. We are always able to regain the original length of the limb when correcting a discrepancy."
"I was given a wrench and three times a day I had to adjust the struts that were on the frame," recalls the 28-year-old Mr. Seaton. "Once the lengthening process was actually finished, the frame remained on so the bones could heal. Before the accident I was an extremely active person and I was very candid with Dr. Rozbruch and Dr. Levine about wanting to be very active again. Both were very supportive and gave me as much latitude as they could with regard to my care knowing how motivated I was to get better. The motivation and positive attitude was key and I was pretty focused on physical therapy and activity both during and after the lengthening period, combining exercises and swimming to maintain the strength in my leg. I also made sure that the treatment didn't stop me from living my life – I flew to my brother's wedding in England and to a friend's bachelor party in Berlin, both during the lengthening period. There was a lot of improvement over the first six months after the frame was removed, and there's been a lot more improvement in the last six months, over which time I've started climbing again and have returned to my very active lifestyle."
"Limb lengthening relies upon the body's ability to regenerate bone and tissues," explains Dr. Rozbruch. "We create an environment for bone healing by cutting the bone in a way that doesn't compromise the blood supply and the biology of the bone. By pulling the bone apart very, very slowly, the bone actually grows and deposits new bone at the site of the cut." Not only is the surgical practice significantly improving the quality of life of patients, notes Dr. Rozbruch, but the science behind limb lengthening opens a window to better understand and radically improve bone healing.
Among the innovative applications to traditional limb lengthening techniques are Dr. Rozbruch's LATN (lengthening and then nailing) procedure and the LAP (lengthening and plating) procedure. The LATN procedure, which has drawn national attention, is not only effective in correcting a leg length discrepancy, it also minimizes the time needed for external fixation. With the LATN approach, a rod is inserted into the bone marrow cavity and serves as a stabilizing mechanism while the bone heals. What's particularly exciting, says Dr. Rozbruch, is that by substituting internal fixation at the end of the lengthening phase, the frame can be removed much sooner and bone healing is accelerated.
LAP is an advancement in internal fixation in which locking plates can be implanted through minimally invasive means that will help maintain the new position achieved without further need of an external apparatus. Says Dr. Rozbruch, "We have developed and continue to investigate hybrid techniques that allow us to incorporate newer devices and procedures with traditional approaches to improve the quality of the work that we do and increase the benefits for patients."
And there's no time limit for performing these procedures. Dr. Rozbruch and his team have cared for patients with traumas dating back several decades who come from the era of traction, and they have been able to help them.