Guided by the pillars of its mission — patient care, research, education, and enhanced quality of life — HSS is committed to advancing global health and the delivery of humanitarian services. HSS seeks to develop well-rounded leaders capable of providing short-term international or domestic assistance that promotes human welfare and reduces human suffering.
FOCOS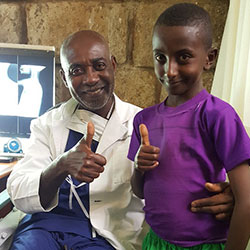 The Foundation of Orthopedics and Complex Spine (FOCOS) was founded by Oheneba Boachie-Adjei, MD, Chief Emeritus of the HSS Scoliosis Service. FOCOS provides orthopedic care to underserved populations in West Africa and other developing nations.
FOCOS Orthopedic Hospital in Accra, Ghana is a freestanding hospital with its own full-time staff. It brings state-of-the-art orthopedic care to an area of the world where the need is great. HSS supports its goal to provide high-quality care and improve quality of life in Ghana and neighboring countries.
HSS staff members — including nurses, central sterile processing technicians, physical therapists, prosthetic technicians, procurement staff, and neuromonitoring technicians — make week-long service trips to the FOCOS Orthopedic Hospital twice each year to offer educational support and share best practices with the FOCOS staff.
Humanitarian Initiatives Program
The Humanitarian Initiatives Program aims to improve orthopedic care in resource-limited nations by supporting one to two service-and outcome-based projects annually that promote sustainable knowledge transfer in the area of musculoskeletal health.
Global Musculoskeletal Health Equity Division (GMHED)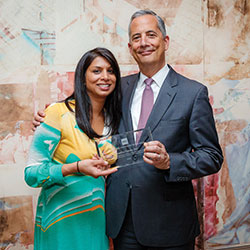 The HSS Global Musculoskeletal Health Equity Division (GMHED) is a division of HSS Global Partnerships founded in 2021 by Dr. Swetha Pakala and Dr. Mark Brouillette to provide humanitarian services in places where the need for musculoskeletal care is great and access to safe high-quality care is lacking. This program was formerly the Global Health Initiative (GHI), founded in 2012 within the Department of Anesthesiology, Critical Care & Pain Management.
In recognition of her work, Dr. Pakala was honored in 2019 with the first Leon Root, MD, Community Service Award, which recognizes individuals who have made significant contributions to the community by leading initiatives that improve the health of underserved populations.

Other Supported Humanitarian Efforts
Crutches for Kids
HSS partners with Crutches 4 Kids (C4K), a nonprofit organization dedicated to providing crutches to disadvantaged children around the world. The mission of C4K is to bridge the gap between crutch supply and demand to empower children with mobility impairments. Providing crutches to disabled children gives them the gift of mobility, which leads to independence and enables them to attend school, use their education to gain future employment, and become active participants in the lives of their families and communities.
Beth E. Shubin Stein, MD, Associate Attending Orthopedic Surgeon at HSS and Chair of C4K, co-founded the organization with her brother and husband in 2010. Board members include HSS President and CEO Louis A. Shapiro and JeMe Cioppa-Mosca, PT, MBA, Senior Vice President of Rehabilitation at HSS.
COVID-19 Resources
Global Impact Report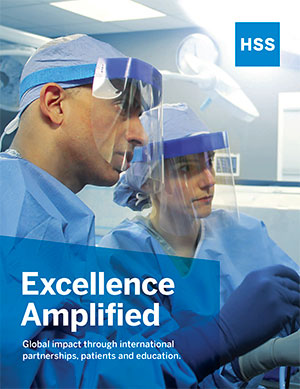 Excellence Amplified. Global impact through international partnerships, patients and education.
Read the current issue of the HSS Global Impact Report.
GlobalLink Newsletter
The HSS GlobalLink newsletter highlights our global initiatives and partnerships and promotes opportunities to advance musculoskeletal health around the world.
Grand Rounds from HSS: Management of Complex Cases
Grand Rounds publications are for musculoskeletal health professionals. These materials profile highly complicated cases, including follow-up data and clinical treatment discussions.
HSS Journal®
HSS Journal: The Musculoskeletal Journal of HSS is a peer-reviewed journal published since 2005. Submissions are welcome from clinicians around the world; the journal features original research, review articles, and case reports on musculoskeletal conditions, their diagnosis, and their treatment. Articles from professionals in fields relevant to musculoskeletal health are encouraged: orthopedics, anesthesia, perioperative medicine, bone and mineral medicine, radiology and imaging, clinical pathology, rheumatology, telehealth, robotics, musculoskeletal nursing, neurology, physiatry, and rehabilitation. The editorial board is dedicated to conducting anonymized peer review and minimizing potential conflicts of interest. Articles are published online on a rolling basis and then three times per year in print.
Continuing Education
Developed in collaboration with HSS faculty, the HSS eAcademy® learning platform is one of the largest portfolios of premium, on-demand musculoskeletal content and offers professional education courses and content to physicians, physician assistants, nurses, physical therapists, occupational therapists, athletic trainers, and healthcare professionals. The platform, which includes orthopedic surgical videos and conversations with experts, reaches more than 30,000 healthcare professionals in more than 130 countries. It is also open to the public, providing access to reliable musculoskeletal content at their convenience.
HSS also offers a wide range of livestreaming and onsite courses and conferences. Visit the CME and CEU Activities and Offerings page for a selection of upcoming programs, grand rounds, and more.
Studies on Humanitarian Work