Officers
Co-Chairs
Thomas H. Lister
Robert K. Steel
Vice Chairs
Michael Esposito
Craig Ivey
President and Chief Executive Officer
Louis A. Shapiro
Surgeon-in-Chief and Medical Director
Bryan T. Kelly, MD
Executive Vice President and Treasurer
Stacey L. Malakoff
Executive Vice President, Chief Legal Officer and Secretary
Irene Koch, Esq.
Chairmen Emeriti
Winfield P. Jones
Richard L. Menschel
Aldo Papone
Kendrick R. Wilson III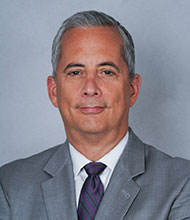 Louis A. Shapiro
President and CEO
HSS Leadership Councils
Board of Trustees
Todd J. Albert, MD
James M. Benson
Daniel C. Benton
Herbert Black
Mathias Bostrom, MD
S. Louis Bridges, Jr., MD, PhD
Michael C. Brooks
Kathryn Chenault
Chase Coleman
Leslie Cornfeld
Cynthia Foster Curry
Barrie M. Damson
Anthony de Nicola
James G. Dinan
Anne Ehrenkranz
Michael Esposito
Marina Kellen French
Duretti Fufa, MD
Robert Goldstein
Giammaria Giuliani
Russell E. Hutchinson
Lionel Ivashkiv, MD
Craig S. Ivey
Warren B. Kanders
Scott Kapnick
Monica Keany
Bryan T. Kelly, MD
Thomas J. Kelly, MD, PhD
Sacha Lainovic
Laurie Hodges Lapeyre
Pablo Legorreta
Lara R. Lerner
Kathy Leventhal
Thomas H. Lister
Alan S. MacDonald
David H. McCormick
Celene Menschel
Mary Kathryn Navab
Karen Onel, MD
Terence M. O'Toole
Douglas Padgett, MD
Gordon Pattee
Matthew H. Peltz
Steven Rattner
Scott Rechler
William M. Ricci, MD
Louis A. Shapiro
Jonathan Sobel
Deirdre Stanley
Robert K. Steel
Jonathan Tisch
Frances Townsend
Sanford I. Weill
Kendrick R. Wilson III
Ellen M. Wright
Robert D. Yaffa
Life Trustees
Loring Catlin, Chairman Emeritus
Kathryn O. Greenberg
James R. Houghton
Winfield P. Jones
Marylin B. Levitt
Carl B. Menges
Richard L. Menschel, Chairman Emeritus
Aldo Papone, Chairman Emeritus
Samuel S. Polk
Katherine O. Roberts
Susan W. Rose
Thomas P. Sculco, MD, Surgeon-in-Chief Emeritus
Patricia G. Warner
Russell F. Warren, MD, Surgeon-in-Chief Emeritus
Torsten N. Wiesel, MD

In Memoriam
Howard B. Dean
Mrs. James D. Farley
Mrs. Beverly Sills Greenough
J. Peter Hoguet
David H. Koch
Norton W. Mailman
David Mixter
Mrs. Emil Mosbacher, Jr.
Dean R. O'Hare, Chairman Emeritus
John J. Phelan, Jr.
Charlton Reynders, Jr.
William R. Salomon
Donald Stone
Philip D. Wilson, Jr., MD, Surgeon-in-Chief Emeritus
Mrs. Ezra Zilkha
Board of Advisors
Chair
Robert D. Yaffa

Vice Chair
Katherine Doerge

Founding Member
Kenneth V. Handal

Bradley Amoils
Rosie Barnes
Barry L. Bloom
Pete Briger
Wei Sun Christianson
Jeffrey B. Citrin
Lira Lee Cohen
Alexander Crisses
Mary Ann Deignan
Katherine Doerge
John B. Ehrenkranz
Sanford B. Ehrenkranz
Stephan Feldgoise
Jonathan Flint
Marc Gabelli
Cindy Golub
Lorna B. Goodman
Rachel Grodzinsky
Kenneth V. Handal
Connie Anne Harris
Henry U. Harris III
Kurt Johnson
Maria Ines Kavamura, MD, PhD
Sandra L. Kozlowski
Matthew F. LeBaron
Stephen C. Mills
David G. Nason
Daniel Pacthod
Rick Rieder
Douglas L. Sacks
Tad Smith
Tony Spring
Amanda Taylor
Robin A. Vince
Sara Weiner
Robert D. Yaffa

In Memoriam
Earl G. Graves, Sr.