Hospital for Special Surgery is accredited by the Joint Commission.
It is a member of the NewYork-Presbyterian Healthcare System and an affiliate of Weill Cornell Medical College, and cooperates in patient care with NewYork-Presbyterian Hospital/Weill Cornell Medical Center, Memorial Sloan Kettering Cancer Center, and The Rockefeller University.
All HSS medical staff are on the faculty of Weill Cornell Medical College.
ACCME Accreditation Awarded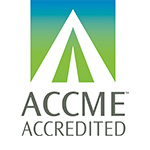 We are pleased to announce that Hospital for Special Surgery has been resurveyed by the Accreditation Council for Continuing Medical Education (ACCME) and awarded accreditation for four years as a provider of continuing medical education for physicians. ACCME accreditation seeks to assure the medical community and the public that Hospital for Special Surgery provides physicians with relevant, effective, practice-based continuing medical education that supports US health care quality improvement.
The ACCME employs a rigorous, multilevel process for evaluating institutions' continuing medical education programs according to the high accreditation standards adopted by all seven ACCME member organizations. These organizations of medicine in the US are the American Board of Medical Specialties, the American Hospital Association, the American Medical Association, the Association for Hospital Medical Education, the Association of American Medical Colleges, the Council of Medical Specialty Societies, and the Federation of State Medical Boards of the US, Inc.
Institutional Relationships
HSS has a comprehensive set of policies addressing potential conflicts of interest that may arise from financial relationships with outside companies. HSS' conflicts of interest policy guidance cites some examples of outside funding relationships.
For medical products invented or designed at HSS and licensed to outside companies for use in patients: HSS policy prohibits HSS from receiving any royalties for the use of such products at HSS. This policy is intended to ensure that use of such products at HSS is based on patient care needs only, and not on any royalties that HSS may earn from the products purchased for use at HSS.
For Professional Education and Academic Training Programs at HSS: HSS has policies in place that meet the standards of the Accreditation Council for Continuing Medical Education (ACCME) and the Accreditation Council for Graduate Medical Education (ACGME) , which includes limiting the risk of bias by prohibiting any company from directly approaching medical students, residents and fellows for trainees, and as being the sole sponsor of an Education or Academic Training Program, unless the HSS GME Council or the Professional Education Advisory Committee has reviewed the content of the program and determined that it is free of bias. HSS policy also requires disclosure of program sponsorship and of any relationship that program presenters (e.g., faculty) and planning committee members might have with commercial interests. If it is determined that faculty and planning committee members who will be discussing products or services have a conflict of interest, then appropriate steps are taken to manage and/or resolve that conflict of interest.
For Outside Company Sponsorship of Research at HSS: HSS refrains from participating in research sponsored by a company in which HSS has an interest that might create a potential conflict, unless the research is reviewed and receives the approval of the Conflict of Interest Committee – Research. As a condition of approving such research, the Conflicts of Interest Committee – Research puts into place procedures to manage and monitor the Conflict of Interest to eliminate any bias, direct or indirect, that may arise from research and to disclose such interests to HSS patients who may be enrolled in the research.
Institutional Interests as of June 2023
AGelity Biomechanics Corp. - Investment Interest
ALM Ortho, Inc.- Investment Interest; Anticipated Royalties
Hydro-Gen LLC – Anticipated Royalties
BetterPT, Inc. - Investment Interest; Revenue
CHS Pharma Inc. - Investment Interest; Anticipated Royalties
DePuy Synthes Products, Inc. - Royalties
DePre Holdings, LLC - Investment Interest
Diffusion Rx, Inc., - Anticipated Royalties
Evolve Ortho, LLC - Investment Interest; Anticipated Royalties
Exactech, Inc. - Royalties
Extremity Medical, LLC - Royalties
Emil NewCo S.à r.l., (subsidiary of Limacorporate S.p.A.) - Investment Interest
EMD Millipore Corporation - Royalties
Imagen Technologies, Inc. - Investment Interest
IpiNovyx Bio, Inc. - Investment Interest; Anticipated Royalties
Kerafast, Inc. - Royalties
Lazurite, Inc.-Investment Interest; Anticipated Royalties
Limacorporate S.p.A. – Royalties
Lumoptik, Inc.- Investment Interest; Anticipated Royalties
MARS Bioimaging, Ltd.-Investment Interest; Anticipated Royalties
Ortho Development Corp. – Royalties
OrthoVentions- Investment Interest
Proteus Motion Inc.- Investment Interest
RGD Technologies LLC - Investment Interest
SciRhom GmbH - Investment Interest; Anticipated Royalties
DARI Motion, Inc. (Scientific Analytics Inc.) - Investment Interest; Anticipated Royalties
Teslasuit-Investment Interest; Anticipated Royalties
VR Electronics Limited - Investment Interest; Anticipated Royalties
Zimmer US, Inc. d/b/a Zimmer Biomet - Anticipated Royalties
WishBone Medical, Inc. - Anticipated Royalties