Hospital for Special Surgery is accredited by the Joint Commission.
It is a member of the NewYork-Presbyterian Healthcare System and an affiliate of Weill Cornell Medical College, and cooperates in patient care with NewYork-Presbyterian Hospital/Weill Cornell Medical Center, Memorial Sloan-Kettering Cancer Center, and The Rockefeller University.
All HSS medical staff are on the faculty of Weill Cornell Medical College.
Accreditation with Commendation Awarded by ACCME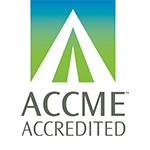 We are pleased to announce that Hospital for Special Surgery has been resurveyed by the Accreditation Council for Continuing Medical Education (ACCME) and awarded accreditation with commendation for six years as a provider of continuing medical education for physicians. ACCME accreditation seeks to assure the medical community and the public that Hospital for Special Surgery provides physicians with relevant, effective, practice-based continuing medical education that supports US health care quality improvement.
The ACCME employs a rigorous, multilevel process for evaluating institutions' continuing medical education programs according to the high accreditation standards adopted by all seven ACCME member organizations. These organizations of medicine in the US are the American Board of Medical Specialties, the American Hospital Association, the American Medical Association, the Association for Hospital Medical Education, the Association of American Medical Colleges, the Council of Medical Specialty Societies, and the Federation of State Medical Boards of the US, Inc.
This is the highest level of accreditation awarded by the ACCME.