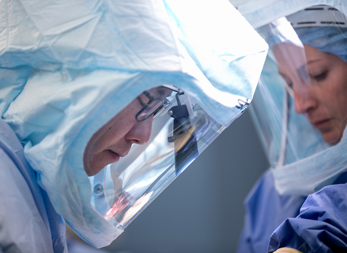 Hip replacement surgeons provide surgical care for people with hip arthritis and other hip conditions. Total hip replacement is the most common and successful surgical treatment for hip arthritis. HSS Florida brings the world-renowned hip replacement surgical techniques and practices of Hospital for Special Surgery close to home for South Florida residents.
Hip replacement surgery is used primarily to treat osteoarthritis in patients over 55 years of age. Sometimes it is also recommended for younger patients with a severely fractured or improperly growing hip, complications of rheumatoid arthritis or other conditions.
HSS joint replacement surgeons focus exclusively on hip and knee reconstruction and replacement. They are also experts in minimally invasive surgical techniques, including computer-assisted navigation and robotic techniques.
This highly specialized focus leads to superior outcomes for people seeking relief from the pain and stiffness of hip osteoarthritis.
How Hip Replacement Works
The hip joint is located where the thighbone and pelvis meet. It is a ball-and-socket joint. The ball forms at the top of the thighbone, while the socket is located on the outer side of the pelvis. The ball fits into and moves within the socket to allow your leg to rotate and move forward, backward and sideways.
Cartilage and other soft tissues surround the ball and the socket to ensure free and smooth movement. When these tissues are damaged by injury or wear down over time, they become rough. This causes pain and stiffness that makes it increasingly difficult to walk and perform other routine activities. This condition, osteoarthritis, slowly destroys the joint.
In a total hip replacement, small portions of the pelvis, thighbone and surrounding soft tissues are removed. Artificial implants (prostheses) are put in place to restore movement and relieve the pain of hip arthritis. People who have arthritic damage that does not affect the entire joint may get relief from other procedures, such as partial hip replacement and hip resurfacing.
When to Consult a Hip Replacement Surgeon
Depending on the severity of your condition, there are nonsurgical treatments that may address your hip pain. These include:
reducing activity that causes pain
losing weight to reduce strain on the joint
pain medications such as ibuprofen or naproxen
Cox-2 inhibitors
corticosteroid injections
If you have these arthritis symptoms, you should meet with a surgeon to learn whether hip replacement is right for you:
severe hip pain that is not relieved by medications such as ibuprofen
pain that interferes with your work, sleep or everyday activity
hip stiffness that makes it difficult to walk
Hip Replacement Expertise at HSS Florida
Hospital for Special Surgery has been ranked #1 for orthopedics in the United States for 11 straight years. Our hip and knee replacement surgeons have dedicated their careers to relieving pain, improving function and restoring quality of life for their patients. The HSS physicians and surgeons of HSS Florida in West Palm Beach bring the hallmark care and surgical best practices of HSS to the Greater Miami area.
Each HSS Florida physician is a highly specialized practitioner in the fields of orthopedics, sports medicine, and/or physiatry. These specializations give you access to world-renowned musculoskeletal expertise. Meet our doctors.
Outpatient Hip Replacement Surgery
HSS Florida surgeons perform outpatient hip replacement (also called "same-day" or "ambulatory" hip replacement), in which the patient can return home on the day of surgery. However, it is not right for everyone. Some people require an overnight stay.
How do I know if I can have outpatient hip replacement?
Patients who are in good general health, do not smoke, are motivated and have a good support team at home are the best candidates. Those who qualify are given special education on their recovery, which must be followed closely.
If you can answer "yes" to all of the below questions, you may be able to have outpatient hip replacement surgery.
Are you between the ages of 18 to 70?
Will you have support at home from a family member or friend after your discharge?
Are you generally healthy, with no significant medical conditions (for example, sleep apnea, history of heart attack, use of a pacemaker, etc.)?
HSS joint replacement specialists perform a thorough evaluation of each patient's individual circumstance in order to determine their eligibility for outpatient hip replacement surgery.