HSS Florida in West Palm Beach provides residents of the Greater Miami metro area access to world-class orthopedic and sports medicine care. This specialization allows us to offer unmatched expertise in musculoskeletal-related injuries and conditions. It also means that our entire care team, including nurses and anesthesiologists, specializes in care and treatment techniques that help us provide the best outcomes possible for our patients.
Learn more about the different types of specialists at HSS Florida using the below information as a guide.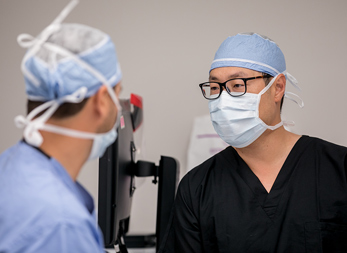 Hand Specialists
The hand surgeon at HSS Florida is committed to helping patients regain mobility, reduce pain and restore quality of life. She is part of a comprehensive care team that includes certified hand therapists.
Hip Specialists
Each hip specialist at HSS Florida is a leading expert in one or more specific conditions or surgeries related to the hip. Our team includes:
Knee Specialists
The orthopedic knee specialists at HSS Florida are leading expert one or more specific conditions or surgeries related to the in knee. Our team includes:
Orthopedic Trauma Specialists
Our orthopedic trauma team treats severe injuries to the musculoskeletal system, both surgically and nonsurgically, depending on which approach is most appropriate for the patient. The goal of trauma treatment is to restore function and help alleviate pain and improve or preserve quality of life.
Physiatry Specialists
Our highly trained physiatrists specialize in physical medicine and rehabilitation of the entire body, specifically for people have been debilitated by a musculoskeletal condition or injury, such as a spine condition. They are experts in providing nonsurgical care for pain that is not related to an acute injury and can perform procedures such as injection therapy to treat various joint and spinal disc conditions.
Shoulder Specialists
The shoulder experts at HSS Florida can help correct injuries to the shoulder to increase motion, reduce pain, and help the patient restore function as quickly and effectively as possible. Our team includes:
Sports Medicine Specialists
Our sports medicine specialists help athletes and active individuals improve their athletic performance, recover from injury, and prevent future injuries. They specialize in both surgical and nonsurgical approaches for conditions that range from tennis elbow and golfer's elbow to knee problems such as a torn ACL or torn meniscus.
Physical Therapy and Sports Performance Specialists
The physical therapists at HSS Florida help patients rehabilitate and recover from injuries and conditions that limit physical function. They care for people with injuries and pain in the hand, wrist, elbow, lower back, and neck, as well as those with sports injuries and general orthopedic pain. Our sports performance specialists work with people who want to gain a better understanding of how their body works, so that they can prevent injury and be the best they can be in their chosen sport.
Physical therapy is available as a standalone service or in conjunction with other treatments at HSS Florida. HSS Florida also offers Direct Access Physical Therapy without requiring a physician prescription, dependent on insurance.