A 2012 HSS study used MRI to show that reconstructing the anterior cruciate ligament (ACL) after an ACL tear protects patients from developing osteoarthritis. In addition, the study showed that people with a torn ACL tear sustain damage to the surrounding cartilage, which worsens over time. Doctors had previously thought that the "bone bruise" commonly seen in patients with ACL tears did not affect future health.
The study, published in the American Journal of Sports Medicine, involved 40 patients with a total of 42 ACL tears. Fourteen knees were treated conservatively (nonsurgically), while 28 were reconstructed. Patients had follow-up imaging for up to 11 years with both standard MRI and a newer method of MRI called quantitative T2 mapping. Patients completed surveys to measure knee function at the time of their baseline imaging of the original injury and during all follow-up visits.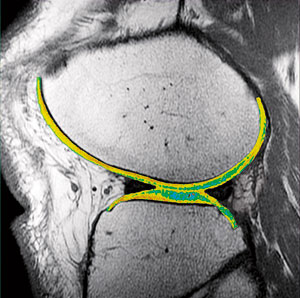 Lateral view of the knee using T2 mapping demonstrates abnormal cartilage in the central area of the tibia (shin bone), as well as in the area not involved in the initial "bone bruise".
All patients sustained cartilage damage that increased over time. By years 7 to 11, the risk for cartilage loss to the lower portion of the thighbone was 50 times greater than that seen at baseline. The risk for cartilage loss in the kneecap was 30 times higher than at baseline.
By years 7 to 11, patients without ACL reconstruction were six times more likely to have cartilage degeneration in the shinbone and five times more likely to have degeneration in the kneecap. Patients with surgical ACL reconstruction had a slower rate of osteoarthritis progression.
"This study indicates that the dramatic cartilage injury sustained at the time of the ACL tear affects long-term cartilage health," said lead author Hollis G. Potter, MD, chief of the Division of Magnetic Resonance Imaging and director of Research in the Department of Radiology and Imaging at HSS.
Dr. Potter, Chase and Stephanie Coleman Chair in MRI Research, said, "There is an increased rate of progressive cartilage damage in other areas of the leg that were unaffected by the initial impaction injury. ACL reconstruction can slow down this damage."
Article adapted from the Spring 2012 issue of the HSS publication, Discovery to Recovery.
Updated: 12/3/2018
Related articles
Reference