Myositis
The literal translation of myositis is "muscle inflammation." This inflammation is caused by white blood cells called lymphocytes, which are normally supposed to protect the body's immune system. In inflammatory myopathies such as myositis, however, lymphocytes infiltrate healthy muscle fibers as well as foreign invaders. After a period of inflammation, muscle fibers are destroyed, which affects the functionality of muscle tissue and leads to fatigue and immobility.
Treatment of myositis can include anti-inflammatory medications and intravenous administration of gamma globulin, with new and promising medications being introduced on a regular basis. Exercise and physical therapy are also useful tools to ease myositis' physical impact.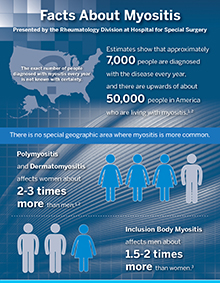 Inflammatory myopathies take a number of forms, including dermatomyositis, polymyositis, and inclusion-body myositis (IBM). The exact number of people affected by myositis is unknown, but estimates show about 50,000 in the US living with the disease.
See our
Facts about Myositis
infographic for more facts and figures about myositis.
Myositis can be a frustrating, mysterious disease, but there are many treatments and social services available to those who live with this oft-misunderstood condition. Hospital for Special Surgery provides many resources for those who suffer with myositis, including our world-class Rheumatology department (top ranked by U.S.News & World Report) and our Myositis Education and Support Program, which has been an invaluable source to those attending the group in New York City. The myositis Web community at large can also access the summaries of Hospital for Special Surgery Myositis Support Group sessions on HSS.edu, all of which are listed below.