Anterior Cruciate Ligament (ACL) Injuries
The ACL (anterior cruciate ligament) is part of a complicated network of tendons and ligaments that help stabilize and support the knee. These structures are particularly vulnerable to injury during athletic activity or as the result of impact.
At HSS, the Sports Medicine and Shoulder Service specializes in the Anatomic Footprint minimally invasive technique to repair a torn ACL.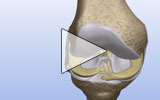 View an animation of an Anatomic Footprint ACL repair technique
Back in the Game Patient Stories
Overview
Diagnosis
Treatments
Related Conditions/Issues
Prevention
Clinical Trials