Two noted senior scientists joined HSS this year to focus on the causes of lupus and the effects of bone, cartilage, and soft tissue degeneration. The Research Division continues to increase its focus on five areas: musculoskeletal integrity; autoimmunity and inflammation; arthritis; biomechanics; and tissue engineering. To build on the strong core of senior scientists at the Hospital, the Division recruited these prominent scientists.
Alessandra Pernis, MD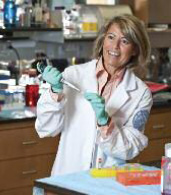 Dr. Alessandra Pernis adds a new dimension and capacity to the Autoimmunity Program as she provides special expertise in acquired immunity. She also brings experience in animal and genetic models of rheumatoid arthritis and lupus which will facilitate our use of models to understand the origins of disease and develop therapies. Her recruitment will ensure ongoing international leadership for Special Surgery in this area.
Dr. Pernis has made novel observations regarding the regulation of inflammation and autoimmunity, which plays a critical role in diseases such as lupus and arthritis. Her studies have provided a new understanding of how certain key proteins affect the production of pro-inflammatory molecules by T lymphocytes, a type of white blood cell, resulting in the inappropriate production of such molecules in an immune response.
"Dr. Pernis will take advantage of our well developed patient cohorts, particularly our lupus and antiphospholipid antibody syndrome patients, to investigate the role of this lymphocyte signaling system in human disease," said Peggy Crow, MD, Co-Director of the Mary Kirkland Center for Lupus Research and Director of the Autoimmunity and Inflammation Research Program at HSS.
Dr. Pernis comes to HSS from Columbia University, where she served as the Advisor Dean and an Associate Professor of Medicine. She was also a member of the Herbert Irving Comprehensive Cancer Center at Columbia. Dr. Pernis received her doctor of medicine from Columbia University's College of Physicians and Surgeons in 1986. She did her internship/residency in internal medicine at Columbia University Medical Center from 1986–1989. Dr. Pernis completed a fellowship in allergy/immunology at Columbia University Medical Center from 1991–1994.
Dr. Pernis has received numerous grants, and is currently the principal investigator on a National Institutes of Health (NIH) grant on Signaling Cascades in Humoral Immunity and Autoimmunity. A new chair in autoimmunity and inflammation is being established as part of her recruitment to HSS.
F. Patrick Ross, PhD
Bone injury and repair represent major challenges in the treatment of patients with orthopedic conditions and rheumatic diseases. F. Patrick Ross, PhD, will bring his extensive experience in applying basic bone biology to the study and treatment of these conditions. Advances in bone biology are important for understanding fracture healing, periprosthetic loosening, spine fusion, and bone resorption.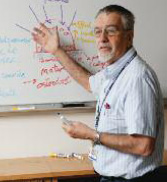 Dr. Ross comes to HSS from Washington University in St. Louis School of Medicine. He was a research professor in the department of pathology and immunology at Washington University in St. Louis School of Medicine. He received his master of science in physiology from the University of the Witwatersrand in Johannesburg, South Africa. He received his PhD in molecular sciences from University of Warwick, Coventry, UK in 1976.
Orthopedic physician-scientists will benefit from the strong mentorship a scientist like Dr. Ross can provide. "Dr. Ross is an international leader in bone cell and molecular biology research and has joined us to provide mentoring, supervision, and integration of the ongoing basic and translational bone research programs," said Dr. Steven Goldring, Chief Scientific Officer. In his new role at HSS, Dr. Ross will work with colleagues to further develop and enhance programs in the fields of bone, cartilage and soft tissue research, and assist in the development of grant applications to increase extramural funding support.