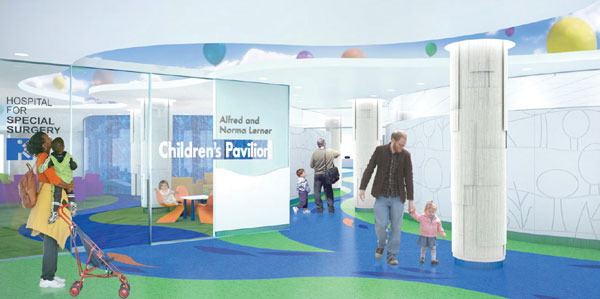 Hospital for Special Surgery is unlike any other hospital – we are the only independent academic medical center in the world exclusively focused on providing orthopedic and rheumatology care for adults and children. Children and their families come from around the world to seek care from our pediatric team. Specialists among specialists, each team member is an expert at helping children with disorders and injuries involving their bones and joints.
Our extraordinary reputation attracts more young patients each year. Last year, our surgeons performed 2,500 orthopedic surgeries for children and adolescents. Each year, young patients make more than 22,000 non-surgical visits to our doctors and nearly 18,000 visits to our pediatric rehabilitation therapists.
To meet the increasing needs of our patients, we are proud to open the new Lerner Children's Pavilion in mid-2012, a child and family-centered hospital within a hospital. This fall, we will launch the first stage of the Pavilion – the 7,000 square foot CA Technologies Rehabilitation Center, made possible through a generous $5 million gift from CA Technologies, an IT management software and solutions company. Therapists, parents, and children were consulted by the architects to design a beautiful, child-friendly space that will facilitate a positive rehabilitation experience for patients and their families.
Our pediatric rehabilitation therapists – physical, occupational, and speech – are crucial members of the team. They help children learn or relearn to move, with or without the aid of surgery. If surgery is needed, the therapists work with them comprehensively, both before and after surgery. The team also provides outpatient therapy to children in the community, often through the Early Intervention program.
Roger Widmann, MD, Chief of Pediatric Orthopedic Surgery, says: "We couldn't achieve the outcomes that we get for our patients without the therapists. They are allies in helping children recover to their full potential."
"With this new pediatric center, our therapists will have a facility that not only allows them to treat more children, but also expands their abilities to provide the best rehabilitation care anywhere," says Leon Root, MD, former Medical Director of Rehabilitation and Chief Emeritus of Pediatric Orthopedics.