What is a TLIF surgery?
Transforaminal lumbar interbody fusion (TLIF) is a spinal fusion technique for the lower back, in which two spinal bones (vertebrae) are joined by removing a portion of the spinal disc between them and placing a spacer (cage), supplemented by screws and rods, in its place. Removing the disc and fusing the vertebrae eliminates motion in that spinal segment (meaning two vertebrae and the intervertebral disc) and reduces back pain. Placing a spacer reduces compression on the nerves by giving them more room. This alleviates sciatica back and leg pain.
Anatomy of the lumbar spine
The lumbar portion of the spine contains the five spinal vertebrae (L1 to L5) of the lower back.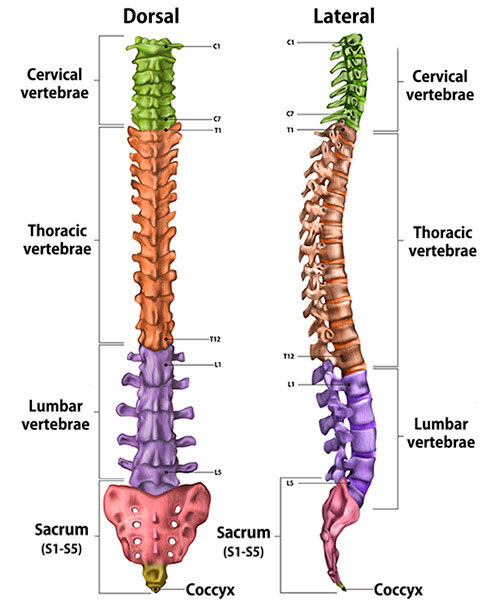 Illustration of cross-section of spine, dorsal (back to front) and lateral (side) views, showing its vertebral sections.
What is the difference between a TLIF and PLIF?
Both surgical techniques for lumbar fusion involve making incisions to the posterior (back) of the lumbar spine to access and remove an intervertebral disc and insert a spacer for fusion of two vertebrae.
After this initial incision, in a posterior lumbar interbody fusion (PLIF), the disc is approached from the midline (the center of the back). This involves retraction of the nerve roots, which can put them at risk for possible injury. In a TLIF spine surgery, on the other hand, the disc is approached from the side, requiring minimal or no nerve root retraction.
To do this, the surgeon removes spinal facets from a vertebra and accesses the disc through the intervertebral foramen (plural, "foramina"). This is why the procedure is called a "transforaminal" lumbar interbody fusion.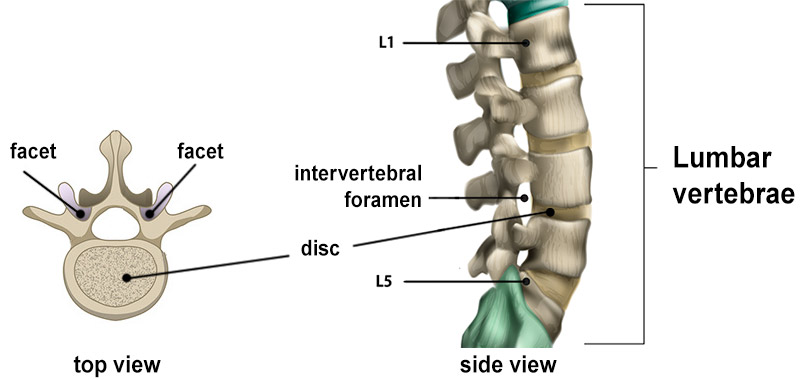 Is TLIF a major surgery?
TLIF surgery should be considered a major surgery as it involves general anesthesia and placement of a cage, screws, and rods. Minimally invasive TLIF, however, decreases the surgical invasiveness and enhances recovery rates.
What is a minimally invasive TLIF?
Minimally invasive TLIF utilizes much smaller incisions compared to traditional open surgery and has been shown to cause less muscle dissection, reduced postoperative pain, and faster recovery and return to activities. It also sometimes takes advantage of expandable cage technology.
What conditions does TLIF surgery treat?
People experiencing low back pain and leg pain associated with sciatica or other lumbar radiculopathy can benefit from a TLIF. Other conditions it can treat include spondylosis, spinal stenosis, degenerative disc disease, recurrent disc herniation, scoliosis, spinal instability (spondylolisthesis), and pseudarthrosis. (Find a surgeon at HSS who performs lumbar fusion surgeries.)
How painful is TLIF surgery?
TLIF is performed under general anesthesia. The pain-blocking effects of anesthesia wear off over several hours, after which prescription pain medication may be given to keep discomfort to a minimum. Minimally invasive TLIF further reduces postoperative pain due to smaller incisions and less muscle dissection.
How is TLIF surgery performed?
The patient is placed prone (lying flat, face downwards) under general anesthesia and an incision is made at the affected spinal level. Spinal facets are removed on one side which gives access to the disc space. A part of the intervertebral disc is then removed, and then the cage, screws and rods are placed.
What is a TLIF cage?
A TLIF cage works as a spacer after a portion of the disc between the vertebrae is removed as part of the procedure. It is made of carbon fiber, polyetheretherketone (PEEK), or trabecular metal and is filled with bone graft to enhance fusion of the vertebrae.
How long does TLIF surgery take?
TLIF surgery usually takes between one and one-and-a half hours when one spinal segment (two vertebrae) is being fused. The patient will generally be in the operating room for one-and-a half to two-and-a half hours. This includes shift-in and shift-out, positioning the patient on the table, putting them under anesthesia and then weaning them off of it after the procedure.
How long does back pain last after TLIF surgery?
The lower back can be expected to be sore after the surgery. This pain generally resolves in two to four weeks. Minimally invasive TLIF typically causes less soreness of the back because it involves less muscle dissection and trauma to surrounding soft tissues.
What is the recovery time for TLIF surgery?
The typical recovery time for TLIF surgery ranges from 6 to 12 weeks, although it varies from patient to patient. Most people are off pain medications and can return to work and driving within two weeks.
How soon can you walk after a TLIF surgery?
Patients typically start walking the same day after TLIF surgery.
Do you need physical therapy after a TLIF surgery?
Physical therapy (PT) is generally beneficial after TLIF surgery. It reduces the pain and inflammation, strengthens the back, and assists the patient in a graded recovery after surgery.
What risks or complications can occur with TLIF surgery?
Possible problems can include bleeding, infection, injury to the nerves, or a need for a reoperation (revision surgery). Bleeding and infection are rare (less than 1%) in a minimally invasive TLIF. Reoperations (additional revision surgeries) may be needed in about 10% to 15% of cases in the event of complications like failure of fusion or adjacent segment degeneration. (Because fusion eliminates motion at a particular spinal segment, adjacent segments compensate for lost motion by increasing their mobility. This puts them under added stress and can make them prone to accelerated degeneration, as compared to the natural rate of degeneration as people age.)
How successful is TLIF surgery?
TLIF back surgery usually leads to significant improvement in back pain, leg pain, disability, and physical function. Research at HSS has shown that 85% to 90% of patients undergoing TLIF feel better after the surgery and are satisfied with the outcomes.
What are the surgical alternatives to TLIF surgery?
Surgical alternatives to TLIF include decompression alone (laminectomy), lateral lumbar interbody fusion (LLIF), anterior lumbar interbody fusion (ALIF), posterior lumbar interbody fusion (PLIF), and posterolateral fusion (PLF). Decision-making depends on clinical signs and symptoms, the particular spinal level(s) to be operated on, and the information shown on radiological imaging.
Updated: 5/23/2023
Authors

Sheeraz Qureshi, MD, MBA
Co-Chief, HSS Spine, Hospital for Special Surgery
Attending Orthopedic Surgeon, Hospital for Special Surgery
Pratyush Shahi, MBBS, MS(Ortho)
Spine Research Fellow
Hospital for Special Surgery
Related articles
References
Sarmiento JM, Shahi P, Melissaridou D, Fourman MS, Araghi K, Qureshi S. Step-by-Step Guide to Robotic-Guided Minimally Invasive Transforaminal Lumbar Interbody Fusion (MI-TLIF). Ann Transl Med. 2023 Jan 12. doi: /10.21037/atm-22-3273.
Shahi P, Dalal S, Shinn D, Song J, Araghi K, Melissaridou D, Sheha E, Dowdell J, Iyer S, Qureshi SA. Improvement following minimally invasive transforaminal lumbar interbody fusion in patients aged 70 years or older compared with younger age groups. Neurosurg Focus. 2023 Jan;54(1):E4. doi: 10.3171/2022.10.FOCUS22604. PMID: 36587410.
Shahi P, Shinn D, Singh N, Subramanian T, Song J, Dalal S, Araghi K, Melissaridou D, Sheha E, Dowdell J, Qureshi SA, Iyer S. ODI <25 Denotes Patient Acceptable Symptom State After Minimally Invasive Lumbar Spine Surgery. Spine (Phila Pa 1976). 2023 Feb 1;48(3):196-202. doi: 10.1097/BRS.0000000000004479. Epub 2022 Sep 16. PMID: 36122296.
Shahi P, Vaishnav AS, Mai E, Kim JH, Dalal S, Song J, Shinn DJ, Melissaridou D, Araghi K, Urakawa H, Sivaganesan A, Lafage V, Qureshi SA, Iyer S. Practical answers to frequently asked questions in minimally invasive lumbar spine surgery. Spine J. 2023 Jan;23(1):54-63. doi: 10.1016/j.spinee.2022.07.087. Epub 2022 Jul 15. PMID: 35843537.
Shinn D, Mok JK, Vaishnav AS, Louie PK, Sivaganesan A, Shahi P, Dalal S, Song J, Araghi K, Melissaridou D, Sheha ED, Sandhu HS, Dowdell JE 3rd, Iyer S, Qureshi SA. Recovery Kinetics After Commonly Performed Minimally Invasive Spine Surgery Procedures. Spine (Phila Pa 1976). 2022 Nov 1;47(21):1489-1496. doi: 10.1097/BRS.0000000000004399. Epub 2022 Jul 15. PMID: 35867600.
Subramanian T, Merrill RK, Shahi P, Pathania S, Araghi K, Maayan O, Zhao E, Shinn D, Kim A, Kamil R, Song J, Dalal SS, Vaishnav AS, Othman Y, Steinhaus ME, Sheha ED, Dowdell JE, Iyer S, Qureshi SA. Predictors of Subsidence and Its Clinical Impact Following Expandable Cage Insertion in Minimally Invasive Transforaminal Interbody Fusion. Spine (Phila Pa 1976). 2023 Mar 13. doi: 10.1097/BRS.0000000000004619. Epub ahead of print. PMID: 36940252.