With the COVID-19 pandemic still ongoing, it's understandable that many people have delayed having elective surgery and some other medical procedures. In fact, in September 2020, the Centers for Disease Control (CDC) reported that 4 in 10 Americans had avoided medical care due to COVID-19-related concerns.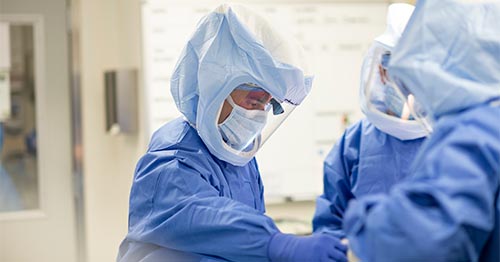 If you have been advised to have elective orthopedic surgery to manage pain or increase your mobility and quality of life, getting care during this time may feel stressful. But you may have fewer reasons to wait than you think. Below, HSS experts share what people should know about having elective surgery at Hospital for Special Surgery right now.
1. New safety guidelines at HSS help prevent the spread of infection.
Infection control has long been a priority at HSS because infections can affect the health and healing of our patients. HSS consistently has maintained a very low infection rate compared to other hospitals in New York State.
As the COVID-19 pandemic spread in 2020, important safety precautions were put forth at the national, state and city levels to prevent infection in hospitals. These guidelines have greatly reduced the risk of infection among patients as well as staff. All HSS staff members are vaccinated against COVID-19. In addition, at HSS, all patients, staff, vendors and visitors are screened for symptoms such as fever, cough and muscle aches on entry. All surgical patients require PCR testing for COVID-19 infection prior to surgery.
"HSS is taking every step possible to keep patients and staff safe from COVID-19," says Andy O. Miller, MD, Chief of Infectious Disease Medicine at HSS. "Our measures have been very successful."
HSS has gone beyond the CDC guidelines, with new infection-reducing surgical practices and enhanced sterilization methods. "Infection prevention has always been among our highest priorities and most important accomplishments," says Douglas E. Padgett, MD, HSS Associate Surgeon-in-Chief and Deputy Medical Director. "HSS has long been recognized as being on the cutting edge of measures to ensure the safety of our patients as well as our staff."
Hospital staff, like all patients and visitors, are also screened daily to check for signs of the virus. Staff, visitors and patients are required to wear masks, and social distancing measures are in effect. Staff also wear PPE such as eye protection, gloves and masks as a routine part of patient care.
2. COVID-19 vaccines are safe and effective, and it's OK to get one before your surgery.
Studies show that the COVID-19 vaccines currently available in the United States are safe and effective at preventing infection. They are also extremely effective at preventing severe illness, if you happen to get COVID-19 after vaccination. Vaccinations are given as an injection into the arm, just like the flu shot. None is capable of giving you COVID-19.
At HSS, we're recommending that surgical patients who are eligible to get the vaccine do so at least seven days before or seven days after their surgery. Our surgeons' office staff are helping patients to coordinate the timing.
Watch a video to learn more about COVID-19 vaccination and surgery
3. For some people, it actually may be a good time to consider elective surgery.
"It's normal to be anxious about practically everything right now," says Roberta Horton, Assistant Vice President for Social Work Programs. "Making a decision about surgery right now may feel especially challenging."
However, she adds, "the possibility of improving your function could help you to feel stronger and more in control at a difficult time."
Horton advises keeping an open mind. "If you're on the fence, learn more about what would be involved rather than ruling it out entirely." You may even decide that now is a good time to take care of medical issues since you may not be missing out on as many in-person activities.
4. Virtual visits can help with travel-related concerns.
For some people, the pandemic has made travel more difficult. Virtual visits may be able to reduce the number of in-person appointments you need to attend.
A virtual visit is similar to an in-person office visit except that it takes place online, on your desktop computer, your laptop or a tablet or smartphone. You and your surgeon will be able to see and talk with each other. You can ask questions as you would during an office visit. Your surgeon can review treatment options with you, go over any imaging work or other test results and answer your questions. Family members can even join, if needed.
During the pandemic, it's also become more common for people to do their physical therapy virtually. "It's been impressive to me how well patients do with this form of physical therapy," says Mathias P. Bostrom, MD, Chief of the Adult Reconstruction and Joint Replacement Service at HSS.
At HSS, we offer step-by-step instructions to help you get set up prior to your visit. You may also be able to have your pre- and post-surgery appointments at an HSS location in New Jersey, Westchester County, Connecticut and Long Island, so you can avoid coming into New York City.
5. Delaying care can be bad for your health.
Orthopedic care is usually considered elective, or not essential. But if you have pain that's preventing you from doing your job, sleeping or carrying out other daily activities, consider checking in with a medical professional. Dr. Padgett recommends consulting both an orthopedic specialist as well as a primary care doctor to rule out other medical conditions.
Don't worry too much if you have pain for a day or two that you can deal with by taking an over-the-counter pain reliever. But these medications can have negative side effects that add up more quickly than you might think, so don't rely on them for too long.
6. Make your decision based on information rather than fear.
It may be daunting to think about, but equipping yourself with some basic information can go a long way toward helping you make a plan that's right for you. If you do decide to consult with an orthopedic surgeon, make sure you get answers to the questions that are most important to you. You don't need to commit if you're not ready, but having this discussion can clarify your options. You may also want to speak with family members or friends about how they can support you and what other kinds of services may be helpful after the procedure, if you do opt for surgery, suggests Horton.
Updated: 11/30/2021
Authors

Douglas E. Padgett, MD
Associate Surgeon-in-Chief and Deputy Medical Director, Hospital for Special Surgery
Attending Orthopedic Surgeon, Hospital for Special Surgery

Mathias P. Bostrom, MD
Chief of Adult Reconstruction and Joint Replacement Service, Hospital for Special Surgery
Attending Orthopedic Surgeon, Hospital for Special Surgery

Andy O. Miller, MD
Chief of Infectious Diseases, Hospital for Special Surgery
Associate Attending Physician, Hospital for Special Surgery