Introduction
For children with spinal deformities, surgical intervention can lead to life-altering improvements in pain relief, daily functioning, and cosmetic appearance. In fact, statistics show that with proper screening, the majority of children do well after undergoing surgery to correct a spinal deformity. However, for a relatively small percentage of young patients, additional surgery may be required in order to address painful symptoms, a deformity that continues to progress, or to maintain the child's growth potential.

"During the initial surgery the goal is to preserve as much motion in the spine as possible, explains Oheneba Boachie-Adjei, MD, Chief Emeritus of the Scoliosis Service at Hospital for Special Surgery. "In addition, because these young patients haven't attained their full growth, the surgeon may leave the growth plates open. Even in carefully screened patients, however, surgical intervention can not ensure that the original deformity will not progress or protect against the emergence of a new deformity."

A number of factors may contribute to the need for revision surgery, including:
Pseudarthrosis, or a non-union of the bone, following a spinal fusion
Crankshaft phenomenon: in which the posterior column of the spine is fused, and the anterior column continues to grow and "rotate" around the fused area.
Junctional degeneration: damage to the spine (discs and vertebrae) that develops above or below the area that has been fused
Deformity progression (also known as "adding on") in the sagittal and/or coronal planes of the spine
Infection in the bone or around instrumentation
Fixed sagittal imbalance (also called flatback): a condition in which too much of the natural sway in the lumbar spine has been eliminated
Pain associated with instrumentation, either due to prominence of the implanted instrumentation and tenderness, or related to infection.
Broken implants requiring replacement
An interactive slideshow of patients before and after revision surgery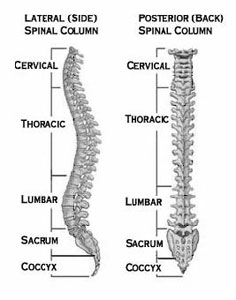 A diagram detailing the sections of the spine, with the neck (cervical) section at the top.
[Image courtesy of www.SpineUniverse.com]
Imaging and Diagnosis
Imaging techniques used to assess patients with these symptoms include:
Standing X-rays as well as dynamic views (the patient is asked to bend side-to-side or forward and back) and oblique X-rays (with the view angled 45 degrees) that can help determine the presence of bone spurs or uncommon fractures
CT scans, which show more detail, helping to determine the position of instrumentation in the bone and status of the fusion
CT myelogram; a CT scan combined with a myelogram in which dye is injected into the spinal canal, highlighting soft tissues such as the spinal cord and nerve roots. A CT myelogram is used to show pressure on the spinal cord or nerve roots as well as swelling or inflammation.
Treatment
The nature of revision surgeries vary, depending on the underlying problem. "Achieving a thorough understanding of the patient's condition prior to surgery, as well as the precise nature of the initial surgery, helps guide the orthopedist's treatment recommendations," Dr. Boachie says. "We also need to understand why the initial surgery was unsuccessful." Among those procedures that may be considered are:
Extension of a previous fusion to address degenerative changes above or below the original fusion site.
Additional fusions using a combined surgical approach from the front (anterior) and back (posterior) of the spine.
Osteotomies, a cut across a deformed segment of the spine to restore proper alignment.
Removal and/or replacement of instrumentation
Debridement - removal of scar and devitalized tissue; often used along with antibiotic therapy to treat an infection
Treatment Outcomes
Revision surgeries for pediatric spinal deformities present a complex set of challenges. "However," notes Dr. Boachie, "with diligent preoperative assessment and diagnosis and proper perioperative technique, as well as the participation of a multidisciplinary team including pediatricians, nutritionists, intensive care, and pulmonary specialists, these patients can do very well."

In a recent study of fifty pediatric patients, Dr. Boachie and his colleagues at HSS saw good outcomes in the majority of this group, including improvement in function, pain, and body image.
Future Directions in Pediatric Spine Surgery
In order to continue improving outcomes in treatment, Dr. Boachie and his colleagues at HSS are also looking at ways to optimize bone healing. Substances called bone morphogenic proteins (BMPs) may actually help build stronger bone and may eventually have a role in spinal fusions. Ensuring that patients are not Vitamin D and/or calcium deficient may also help strengthen the bone and improve the patient's ability to tolerate the insertion of instrumentation and achieve successful spine fusion.

Also, a procedure involving a complex posterior approach known as vertebral column resection, or VCR, is becoming popular to eliminate complications associated with anterior/posterior procedures. This surgery involves a three-column (posterior, middle, and anterior) resection, or partial removal, of the spinal column around the spinal cord and nerve.

If you would like more information about revision spine surgery at HSS, please visit the Physician Referral Service or call 1(877) 606-1555.
Posted: 2/22/2012
Summary prepared by Nancy Novick. Diagnostic imaging courtesy of the HSS Department of Radiology and Imaging.
Authors
Related articles