Inflammatory Arthritis Treatment: What's Working, What's Coming
HSS Health Connection by Community Education & Outreach
Thanks to advances in inflammatory arthritis treatment, the market for therapies has become quite crowded, with more than two dozen available FDA-approved medications.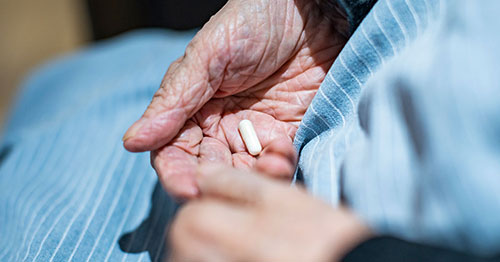 That's good news for patients, because their doctors have lots to choose from. Learn about the various treatment options and the latest research on new biologic arthritis therapies.
Disease-modifying antirheumatic drugs (DMARDs) have transformed the landscape of care for rheumatoid arthritis, psoriatic arthritis, and arthritis due to other autoimmune diseases.These medications relieve inflammation and pain in people with inflammatory arthritis and, as their name implies, can actually change the course of the illness.
Types of DMARDs used in inflammatory arthritis
Traditional DMARDs. This category includes methotrexate, hydroxychloroquine, sulfasalazine, and leflunomide. These drugs still have a place in the treatment of inflammatory arthritis but may not be enough on their own to adequately control symptoms and limit the damage that the disease may cause. They are taken orally (by mouth), although methotrexate is also available as an injection.
JAK inhibitors. Janus kinases (JAK) are proteins involved in inflammation. JAK inhibitors include baricitinib, tofacitinib, and upadacitinib. These medications are taken orally.
Biologic DMARDs. These drugs differ from traditional DMARDs because they are proteins targeting specific proteins fueling the symptoms and damage of inflammatory arthritis. There are many types of biologic DMARDs, which inhibit many different targets in the immune system. These drugs cannot be taken orally, and are given as a subcutaneous (under the skin) injection or intravenously (by vein). Biosimilar DMARDs are drugs that have very similar effects as biologic DMARDs, but may be available at a lower cost.
Biologic drugs for inflammatory arthritis
Biologic DMARDs may be used individually or in combination with a traditional DMARD for the treatment of inflammatory arthritis. They can be further classified by the proteins they target:
Tumor necrosis factor (TNF) inhibitors. TNF causes inflammation and may be elevated in people with inflammatory arthritis. TNF inhibitors include adalimumab, infliximab, etanercept, golimumab, and certolizumab pegol.
Interleukin-6 (IL-6) inhibitors. IL-6 is involved in inflammation of the joints in rheumatoid arthritis. IL-6 inhibitors include tocilizumab and sarilumab.
IL-1 inhibitors. These include anakinra and canakinumab, which block IL-1, another immune system protein involved in inflammation.
IL-17 inhibitors and IL-12/23 inhibitors. These drugs are useful in the treatment of psoriatic arthritis and ankylosing spondylitis. They include secukinumab, ixekizumab, and ustekinumab.
Rituximab. This drug works by depleting B cells – white blood cells that play a role in the immune response and are involved in the formation of autoantibodies.
Abatacept. This drug interferes with certain immune cells, called T cells, which are involved in the process of inflammation in rheumatoid arthritis.
On the horizon: Inflammatory arthritis research
Research is continuing to identify new molecular pathways involved in inflammatory arthritis and to pinpoint possible targets for new therapies. In 2014, the National Institutes of Health established the multicenter Accelerating Medicines Partnership in Rheumatoid Arthritis and Lupus (AMP RA/Lupus) Network to identify and validate the most promising biological targets for the development of new drugs and diagnostics for rheumatoid arthritis and lupus. Insights gained from this effort, which includes researchers at HSS, may enhance the quality of life of patients and family members affected by these and other autoimmune diseases.
Many clinical trials are under way to assess innovative treatments for rheumatoid arthritis, psoriatic arthritis, juvenile idiopathic arthritis, and ankylosing spondylitis. Here are some examples:
Vagus nerve stimulation (VNS). This treatment involves the implantation under the skin of the chest with a small pacemaker-like device that stimulates the vagus nerve. When stimulated, this nerve can help dampen a person's response to stress. Data from early studies are encouraging, showing that this approach may reduce markers of inflammation and symptoms in people with rheumatoid arthritis.
Otilimab. This investigational therapy is under evaluation in late-stage clinical trials and shows promise for reducing inflammation and relieving pain in people with rheumatoid arthritis. It works by suppressing an inflammatory protein called GM-CSF.
Olokizumab. Ongoing phase III clinical trials are evaluating the use of olokizumab, a new IL-6 inhibitor, in patients with rheumatoid arthritis taking either methotrexate or a TNF inhibitor but still experiencing symptoms.
With all the medications available today for people with inflammatory arthritis, researchers are seeking ways to use precision medicine and predictive analytic methods to match each patient with the best treatments. For example, investigators are applying machine learning and artificial intelligence methods to analyze data from electronic health records to predict the course of an individual's disease, and correlate outcomes with medication use. The results of this research could lead to more refined guidelines for healthcare providers to ensure people with inflammatory arthritis receive the most effective therapies.
Posted: 2/9/2022
Authors

S. Louis Bridges, Jr., MD, PhD
Physician-in-Chief, Hospital for Special Surgery
Attending Physician, NewYork-Presbyterian Hospital and Memorial Sloan Kettering Cancer Center
Related articles
If you or someone you know is living with a chronic inflammatory condition, learn about the different patient support programs available at HSS.