Hip replacement surgery for painful arthritis in a worn out joint has given many people a new lease on life. With more than 450,000 hip replacements performed in the United States each year, it is proven to be a highly successful procedure to relieve pain and restore mobility.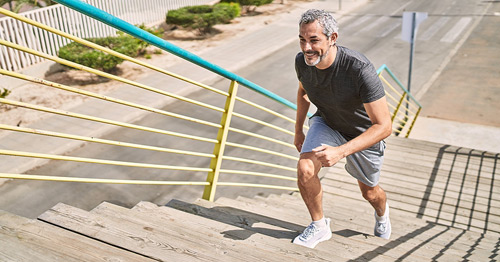 These days, it's becoming more common for people in their 50s or even 40s to consider joint replacement so they can return to activities they've given up due to hip pain. These younger patients are generally excellent candidates for a newer type of hip implant known as "dual mobility." It provides excellent range of motion and has been shown to reduce the risk of instability in younger, active patients.
Although the concept of dual mobility was originally developed in France in the 1970s, the technology is relatively new in the United States. "Dual mobility" refers to the bearing surface of the implant – where the joint surfaces come together to support one's body weight. (Find a hip replacement surgeon at HSS.)
What is a dual mobility hip implant?
A hip replacement implant is a ball-in-socket mechanism, designed to simulate a human hip joint. Typical components include a stem that inserts into the femur (thighbone), a ball that replaces the round head of the thigh bone, and a shell that lines the hip socket.
Compared to a traditional prosthesis for a hip replacement, a dual mobility implant provides an additional bearing surface. With the dual mobility hip, a large polyethylene plastic head fits inside a polished metal hip socket component, and an additional smaller metal or ceramic head is snap-fit within the polyethylene head.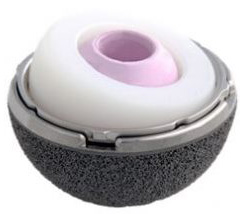 Dual mobility hip replacement studies in younger patients
Studies have found that one of the main advantages of the dual mobility design is that it virtually eliminates the risk of dislocation. This is important for younger patients who are generally more active and put more demands and stress on their hip after surgery. Dislocation is one of the most common complications after hip replacement and the number one reason for revision surgery.
At HSS, we have conducted numerous studies on the dual mobility implant and have published the results in peer-reviewed medical journals. In one study, we compared the dual mobility system with the traditional fixed bearing system in two age-matched groups of patients who had a primary total hip replacement over the same time period. There were 136 patients in each group with a mean age of 48.
At three-year follow-up, we found that the patients who received the dual mobility implant had no dislocations. In the group receiving the standard fixed bearing implant, seven patients, or 5.1%, had a dislocation and needed a revision surgery. The results of this study are encouraging for this active, high demand group of patients.
Dual mobility hip implant video
In this video, Dr. Westrich discusses and demonstrates how a dual mobility hip implant works.
Dual mobility hip replacement for revision surgery
Recent research conducted at HSS and other joint replacement centers also found the dual mobility implant to be a good option for patients of all ages who needed a second hip replacement, known as a revision surgery. The risk of instability following revision surgery is greater than after the original hip replacement. Our latest study found that the newer technology with dual mobility components offered increased stability, lowering the risk of dislocation, without compromising hip range of motion.
We continue to gather data for our joint replacement registry to provide the best evidence-based options for all of our patients. Ongoing research will determine how dual mobility implants perform over the long term. To date, the results indicate that the implant is an attractive option for younger, active patients, as well as for patients in need of a revision hip replacement surgery.
Updated: 10/4/2021
Authors

Geoffrey H. Westrich, MD
Attending Orthopedic Surgeon, Hospital for Special Surgery
Professor of Clinical Orthopaedic Surgery, Weill Cornell Medical College