Tommy John Surgery
Injuries to ulnar collateral ligement (UCL) are common among competitive athletes of throwing sports. Baseball players, especially, are susceptible to UCL tears. Decades ago, such tears were usually career-ending injuries.
Tommy John surgery, named for the first baseball player to receive this treatment, Thomas ("Tommy") Edward John Jr., can help most athletes get back to doing what they love to do.
What is Tommy John surgery?
Tommy John surgery is the reconstruction of the ulnar collateral ligament (UCL) of the elbow. It is most commonly performed after an overhead throwing athlete sustains a high-grade injury to the UCL. A tendon graft from the patient's forearm or hamstring muscle is used to replace the damaged ligament. This provides a new, strong ligament that can allow a full return to throwing.
How do I know if I tore a ligament in my elbow?
Most athletes will experience pain to the inside (medial) part of their elbow while throwing, along with loss of velocity and accuracy. This pain is almost always felt in the "layback" or "late cocking" phase of throwing. Some athletes feel a pop during a single pitch that immediately makes them unable to throw, while others feel gradually worsening pain and loss of velocity. Players will report an inability to throw as hard and as far as usual.
Who is a good candidate for Tommy John surgery?
Any healthy, overhead-throwing athlete with a high-grade injury to the UCL of the elbow and who wishes to return to competition is a good candidate for Tommy John surgery.
How does Tommy John surgery work?
Tommy John surgery begins with harvesting the tendon that will become the new ligament. This is obtained from either an extra tendon in the patient's forearm or from one of the hamstring tendons.
Next, the torn ligament is identified. Drill holes are then created in the forearm bone (ulna) and the arm bone (humerus) where the UCL normally attaches. The graft is then sutured and threaded through these holes to create a figure-8 graft. The sutures are tied together to tighten the graft in the appropriate position.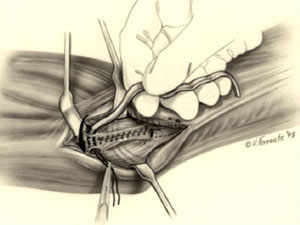 Illustration showing insertion of the tendon graft
Sometimes, depending on the patient's symptoms, additional procedures are performed at the same time as Tommy John surgery. These can include elbow arthroscopy to remove bone spurs or decompressing the ulnar nerve.
How long does Tommy John surgery take?
Tommy John surgery typically takes about 45 minutes to perform. It can sometimes take longer if there are other injuries that need to be addressed at the time of surgery. The surgeon will make this decision based upon the patient's history and physical examination.
What are the potential risks of Tommy John surgery?
Luckily, the risks of Tommy John surgery are very low, though there are some important ones to consider. The ulnar nerve is close to the surgical site. It is protected at all times, though there is a low risk of injury to the nerve. Other risks of surgery include infection, fracture of the bone, numbness around the incision, or future injury to the new ligament.
How long until you can return to sports after Tommy John surgery?
Return to competition largely depends on the sport and position played by the athlete. Most athletes begin a throwing program by five months after surgery. In baseball, pitchers may return to full throwing capacity 12 to 15 months after surgery, although it can sometimes take longer. Position players can return to competition sooner, typically 9 to 12 months after surgery.
What is the success rate of Tommy John surgery?
Tommy John surgery is very reliable and has a success rate of over 90%. The docking technique for Tommy John surgery was developed at HSS by Dr. David Altchek, and this technique has provided a strong and reliable method to help athletes return to competition.
Do you throw faster after Tommy John surgery?
Some players do throw faster after Tommy John surgery. This is often credited to the physical therapy to strengthen the arm and the fact that the athlete once again has a strong ligament that can allow maximum effort throwing without pain.
Can you strengthen your UCL?
There is some emerging research that suggests the ulnar collateral ligament can thicken from throwing and exercise. We are still learning the appropriate balance of exercise and rest to allow for optimal UCL strength.
Can you heal your UCL without surgery?
Some UCL injuries can heal without surgery. This largely depends on the location and the severity of the injury. Low grade injuries to the proximal UCL have the best chance of healing without surgery. High grade injuries or injuries to the distal UCL are less likely to heal on their own. A doctor with expertise in managing UCL injuries will be able to develop an appropriate treatment plan.
Updated: 11/5/2021
Reviewed and updated by James B. Carr II, MD