Limb Lengthening
Deformities of the limbs that may require surgical correction include bowlegs (varus deformity), knock knees (valgus deformity) and limb length discrepancies. A variety of surgical techniques are available to correct angular deformities as well as limb length discrepancies.
What is a limb length discrepancy?
Limb length discrepancy (also called anisomelia) is a condition where one arm or leg is shorter than the other. It can affect both children and adults. The lower limbs are more commonly affected than the upper extremities, and this is called leg length discrepancy or short-leg syndrome.
Having legs of unequal length creates an imbalance in posture and gait (the manner in which a person walks) that places stress on the low back and hip. This, in turn, causes pain and joint degeneration, which can include premature osteoarthritis.
Having arms of different lengths creates an asymmetry that can lead to back and shoulder pain.
What causes limb length discrepancy?
Most cases of limb length discrepancy (LLD) are caused by congenital conditions (those people are born with). But other, acquired causes include:
traumas or infections that damage bone growth plates
poorly healed bone fractures
bone tumors
Congenital conditions causing LLD include:
Fibular hemimelia. Also called longitudinal fibular deficiency, this is where a person is born with an underdeveloped or missing fibula bone.
Congenital short femur, this is a severe shortening or complete absence of the femur bone.
Hemiatrophy, in which one side of the body grows significantly smaller than normal and in relation to the other side. This may be seen in in children with Russell-Silver syndrome
Hemihypertrophy (also called hemihyperplasia). This is where one side of the body grows significantly larger than normal and in relation to the other side. One form of this congenital condition is called Beckwith-Wiedermann syndrome.
In children, damage to a growth plate can cause a bone to stop growing prematurely, leading to LLD and deformity. Growth plate damage is often a result of:
Severe traumas to a bone – such as a fracture occurring from a car accident, high fall or other extreme-force impact injuries.
Bone infections (osteomyelitis). Many kinds of superficial infections (such as Staphylococcus aureas or "staph") can travel through the bloodstream to form a deep infection in a joint or bone growth plate, since there is significant blood flow in these areas. Younger children whose immune systems have not fully developed are especially susceptible to bone infections.
Even in cases where the growth plate is not damaged, bone fractures can sometimes heal in an abnormal position (called malunion), leading to shortening and deformity.
Bone tumor conditions that can lead to shortening and deformation of the bone include:
Fibrous dysplasia – in which fibrous tissue incorrectly grows in place of bone tissue, weakening and/or deforming the bone. This type of noncancerous tumor often affects the femur (thighbone), tibia (shinbone) or humerus (upper arm bone).
Neurofibromatosis.
Ollier disease. In this condition, cysts or tumors called enchondromas, which are formed from cartilage tissue, develop in the bone marrow in close proximity to cartilage of the growth plate
Treatment: What is limb lengthening?
Limb lengthening is a surgical procedure that corrects limb length discrepancy by stimulating new growth of a bone in the shortened arm or leg. Limb lengthening and reconstruction techniques can be used to replace missing bone and lengthen and/or straighten deformed bone segments.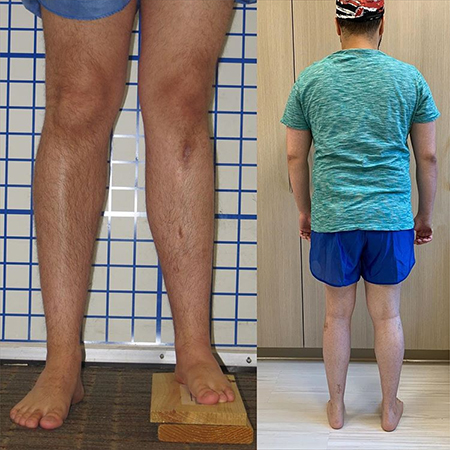 An adult patient, before and after limb lengthening surgery.
How does limb lengthening work?
Limb lengthening works by cutting a bone in half and then separating the two sections to allow new bone to grow into the space between them.
The limb lengthening and deformity correction process works on the principle of distraction osteogenesis. This revolutionary surgical concept that reversed the long-held belief that bone could not be regenerated. Bone has a natural ability to regenerate (grow more bone) after fracture or after it is surgically cut (osteotomy). Limb lengthening surgery takes advantage of this mechanism, which is called osteogenesis.
The process involves three steps:
An osteotomy (bone cut) is performed to divide the bone in two.
The two bone segments are slowly distracted (pulled apart) at a controlled rate and rhythm by means of internal lengthening nails or external fixators.
New bone fills in the gradually enlarging gap that is created.
In this way, bone segments can be lengthened by 15% to 100% of their original length. Bone is usually lengthened at rate of about one millimeter (1 mm) per day.
The lengthening phase of treatment (distraction) is followed by mineralization and hardening (consolidation) of the new bone. Soft tissues including skin, muscles, nerves, blood vessels stretch and grow during this process.
What types of limb lengthening surgery are possible?
The gradual process of lengthening can be accomplished with either an external fixator or an internal lengthening nail.
External fixation is a frame built on the outside of the limb connected to the bone via pins (rods), screws and wires. Adjustments to the external fixator can be used to gradually lengthen and straighten the short and malaligned limb. We use both monolateral (one-sided) and circular external fixation devices, depending on the patient.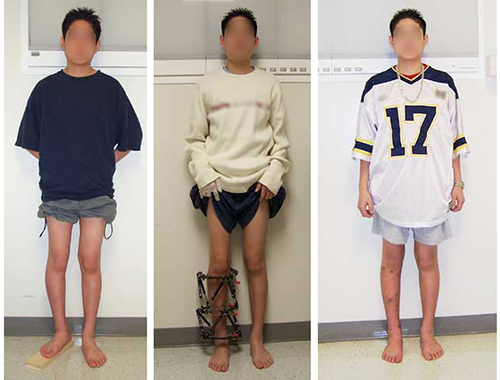 Pediatric patient before surgery, wearing the external fixator for leg lengthening, and after surgery.
The internal lengthening nail (ILN) is a telescopic, motorized intramedullary nail or rod that is inserted into the marrow cavity of the bone. With a remote control device, the magnet in the nail is rotated. This gradually elongates the telescopic nail and the bone in which it is inserted. With this method, the bone is straightened at the time of surgery when the ILN is inserted, and the lengthening is then done gradually over the next several weeks.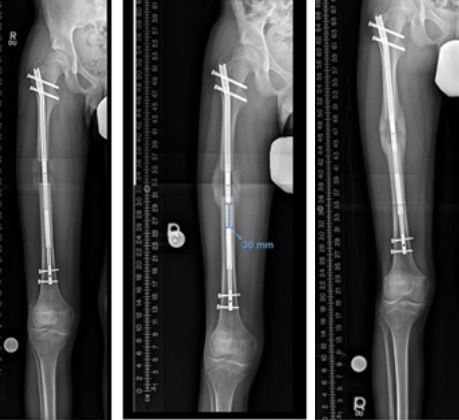 X-ray images of limb lengthening patient with internal nail lengthener at five weeks, where the bone has grown to desired length, at two months with bone growth consolidating, and at three months with completely healed bone.
What is the best method for limb lengthening?
Whenever possible, we prefer to use an internal lengthening nail. However, there are many situations that require use of the external fixator, including:
children with open growth plates
small bones of the foot, hand and arm
large deformities that cannot be straightened acutely
What is the recovery time for limb lengthening?
The exact duration depends on the amount of lengthening needed, but most people are walking without crutches after about two to three months.
There are two phases of recovery:
the lengthening (distraction) phase
the bone healing phase
During the lengthening phase, patients are mobile and walking with crutches. They also do daily exercises to maintain joint mobility and muscle strength.
The recovery process gets much easier once the bone has grown to the full desired length. There is a gradual increase in weight bearing, and most people are walking without crutches after about two to three months.
The speed of bone healing is a function of age. Children, generally, experience faster bone healing than do adults. Nevertheless, adult patients even in their 60s have had successful limb lengthening outcomes.
Video: Limb lengthening patient story
Ian Gillen was an athlete on his way to play Division I basketball, until he was diagnosed with a large bone tumor in the middle of his tibia, resulting in doctors removing 17cm of bone from his leg. Ian turned to the doctors at Hospital for Special Surgery to help him get back onto the basketball court. This video follows Ian through his limb lengthening reconstruction and recovery process.
Back in the Game patient stories