Nurses are at the heart of every aspect of patient care at HSS from educating patients about their conditions and procedures, to assisting our famed surgeons in the most advanced procedures. They are the round-the-clock physical, clinical, emotional, and educational support system for patients and their families. These talented professionals are members of a strong, progressive department focused on excellence. They have chosen to bring their superior training, creativity, vision, and skills to HSS because they are committed to delivering the world's best patient care, and they know that HSS supports, even demands, the same ceaseless excellence.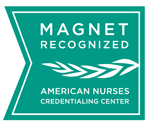 Their work has garnered HSS the Magnet Recognition for Excellence in Nursing Service from the American Nurses Credentialing Center (ANCC) four consecutive times since 2002, an unprecedented feat by any other hospital in New York State.
The ANCC is a subsidiary of the American Nurses Association and is the largest and most prominent nursing credentialing organization in the United States. The Hospital's Magnet® status, which includes annual reviews, is valid for four years.
The American Nurses Credentialing Center (ANCC) has renamed HSS a member of the prestigious Magnet Recognition Program® for excellence in nursing services. The designation, first bestowed upon HSS in 2002, renewed in 2007, 2011, and again in 2016, marks the first time any New York State hospital has been honored with a fourth consecutive Magnet designation. Each designation is regarded to be much more difficult to achieve than the last, making this a truly exceptional accomplishment - one that speaks to the Hospital's efforts to improve patient care.
The Magnet Recognition Program® recognizes health care organizations that demonstrate excellence in nursing philosophy and practice, adherence to national standards for improving patient care, leadership, and sensitivity to cultural and ethnic diversity. Applicants undergo a rigorous evaluation that includes extensive interviews and review of nursing services, clinical outcomes, and patient care. Research shows there are clear benefits to hospitals that are awarded Magnet® status and to the communities they serve:
Magnet®-designated facilities consistently outperform other facilities in recruiting and retaining nurses resulting in increased stability in patient care and positive patient outcomes.
Because quality nursing is one of the most important factors in enlisting high-caliber physicians and specialists, Magnet® status becomes an attractive force that extends to the entire facility.
Magnet®-designated facilities have lower mortality rates and shorter lengths of stay.
Healthcare consumers have more confidence in the overall quality of a hospital if it has achieved the level of nursing standards established by the Magnet Recognition Program®.
Read the HSS Press Release on this accomplishment.
Explore the report in the viewer above (a full screen option is available at the lower right) or download the file.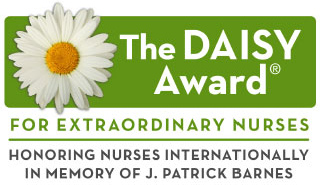 Have you experienced or witnessed an HSS nurse who you felt went above and beyond to provide extraordinary care? If so, nominate them for The DAISY Award and tell your story.
The DAISY Award® For Extraordinary Nurses was created in 1999 by The DAISY Foundation to honor the super-human work nurses do for patients and families every day. Today, Hospital for Special Surgery is one of more than 4,000 healthcare facilities and schools of nursing that participate in this program.
HSS is proud to recognize the exceptional care our nurses provide. Nurses can be nominated for the award by patients or patient family members, as well as by clinicians and other staff members of the Hospital.
Past HSS recipients of The DAISY Award