Nursing Staff Demonstrates Excellence in Philosophy and Practice
NEW YORK, N.Y.—January 18, 2007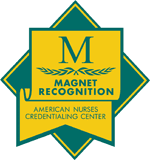 Today, the American Nurses Credentialing Center (ANCC) re-designated New York's Hospital for Special Surgery (HSS) as a member of their prestigious Magnet Recognition Program®. This honor makes the Hospital the first in New York City and in New York State to be re-designated for nursing excellence, according to the ANCC.
Accepted throughout health care as the gold standard for nursing, the Magnet program recognizes health-care institutions that adhere to and exceed national nursing standards. Thanks to high nurse recruitment and retention rates, high job satisfaction and excellent nurse-to-patient ratios, Hospital for Special Surgery provides a working environment that exemplifies excellence in nursing.
"Our Magnet re-designation confirms what we have always believed – Hospital for Special Surgery nursing staff's patient-forward approach is a model for health-care institutions nationwide," said Louis Shapiro, president and chief executive officer at Hospital for Special Surgery. "The exemplary work by our nurses complements the innovative work by our physicians and surgeons leading to patients receiving exceptional care and peace of mind. This is the essence of our hospital's mission."
Hospital for Special Surgery was initially named a Magnet hospital in 2002, the first hospital in Manhattan to earn this designation. Through the re-designation process, HSS underwent a similarly extensive evaluation that included interviews and review of nursing services, clinical outcomes and patient care.
Since the Magnet's inception in 1993, hospitals designated and re-designated as Magnets typically outperform other hospitals in recruitment and retention of nurses. Magnet status also makes a designated hospital attractive to high-caliber physicians and specialists, which results in a facility that provides premium health care to all patients. Consumers have come to understand that Magnet hospitals are institutions that they can have confidence in for their health-care needs.
"I commend our nursing leadership at Hospital for Special Surgery for driving the process of nursing excellence," said Stephanie Goldberg, R.N., vice president for nursing at Hospital for Special Surgery. "Magnet designation makes our job exceedingly easier in terms of recruiting new nurses because prospective nurses understand that at a Magnet hospital they have an opportunity to work with and learn from the best."
Goldberg concluded that nurses at Hospital for Special Surgery not only have an important role in the healing and recovery process for patients, but also play an equally strong part in shaping the environment in which they work.
About Hospital for Special Surgery
Founded in 1863, Hospital for Special Surgery (HSS) is a world leader in orthopedics, rheumatology and rehabilitation. HSS is nationally ranked No. 1 in orthopedics, No. 3 in rheumatology by U.S. News & World Report (2007), and has received Magnet Recognition for Excellence in Nursing Service from the American Nurses Credentialing Center. In the 2006 edition of HealthGrades' Hospital Quality in America Study, HSS received five-star ratings for clinical excellence in its specialties. A member of the NewYork-Presbyterian Healthcare System and an affiliate of Weill Medical College of Cornell University, HSS provides orthopedic and rheumatologic patient care at NewYork-Presbyterian Hospital at New York Weill Cornell Medical Center. All Hospital for Special Surgery medical staff are on the faculty of Weill Medical College of Cornell University. The hospital's research division is internationally recognized as a leader in the investigation of musculoskeletal and autoimmune diseases. Hospital for Special Surgery is located in New York City and online at www.hss.edu.