HealthConnection FastFacts
HealthConnection FastFacts is a convenient 1-page health education newsletter designed to provide the public with fast, current, accurate musculoskeletal and general health information.
Current Edition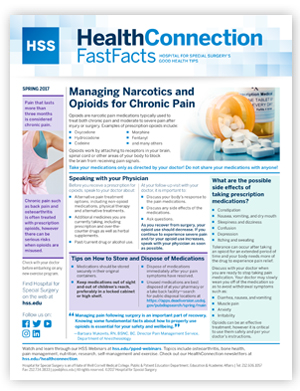 View the latest HealthConnection FastFacts
Managing Narcotics and Opioids for Chronic Pain
Opioids are narcotic pain medications typically used to treat both chronic pain and moderate to severe pain after injury or surgery.
Past Editions:
Visit the Public and Patient Education page for a calendar of our open events and to register for a variety of classes!
Winter 2017 HealthConnection
Topic: Sports Safety (pdf)

Learn more about HealthConnection