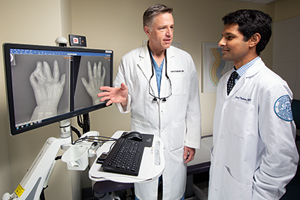 Injuries, congenital differences and systemic conditions affecting the hand and upper limb in children can have a substantial impact on aesthetics, self-image, daily hand function, as well as involvement in sports and other recreational activities.
HSS pediatric hand surgeons strive to provide the highest quality care for each individual patient and family. We work in close collaboration with hand therapists, pediatricians, radiologists, anesthesiologists, as well as each other.
Conditions We Treat
HSS pediatric hand surgeons specialize in treating congenital hand and arm disorders. We also frequently care for children who have traumatic injuries to bones, tendons and ligaments.
Hand and Arm Differences
Congenital hand and upper limb differences that we treat include:
Clinodactyly – Abnormal curvature of a finger. This most commonly affects the small finger, also known as the "little finger" or "pinky."
Constriction bands – Also known as "constriction ring syndrome," this is disrupted growth of fingers or arms resulting from bands of uterine tissue becoming wrapped around the limb of a developing fetus. Clinical manifestations include amputation, bands (ringed indentations), or syndactyly.
Ectrodactyly – An umbrella term referring to missing fingers, ectrodactyly can be caused by various underlying conditions.
Hypoplastic thumb – This is a spectrum of conditions that ranges from a small but otherwise normal thumb, to a thumb that is missing tendons or ligaments, to a completely absent thumb.
Longitudinal deficiency – This is a spectrum of conditions in which part or all the forearm bones (radius or ulna) are missing. These conditions may be associated with other hand differences, other systemic musculoskeletal conditions, and/or other systemic conditions.
Macrodactyly – Abnormal enlargement of the finger, hand or upper limb.
Madelung's – Abnormal growth of distal radius bone resulting in clinical wrist deformity and pain.
Polydactyly – Extra fingers which can grow out from thumb, small finger or central hand.
Symbrachydactyly – Hand difference resulting in short fingers, webbed fingers or missing fingers. This condition may be associated with other upper limb differences, including absence of chest wall musculature.
Syndactyly – Webbed fingers, most commonly affecting the middle/ring fingers.
Systemic Conditions That Can Affect the Upper Extremity
Systemic conditions that can affect the upper extremity include:
Arthrogryposis
Multiple hereditary exostosis
If you are concerned that you may not be able to pay for your care, we may be able to help. Financial assistance for families in need is available to ensure that all children are able to receive the best care.
Pediatric Hand Surgeons