The Andrew N. Swanson, MD, Spine Awards
The Andrew N. Swanson, MD, Spine Awards
were developed in 2009 to honor the memory of Dr. Swanson, who demonstrated from his residency days through his brief professional career, a commitment to provide compassionate medical care and services to all he encountered. He participated in humanitarian work on a regular basis, traveling two times a year since graduating from HSS to give pro-bono surgical care to patients in Ghana, Africa. Nominations will be solicited from HSS Staff and Alumni recognizing an HSS alumni who excelled in spine education, research, practice or humanitarian efforts with one or more of the following attributes: leadership, academia, clinical innovation, humanitarian/societal involvement, and/or research. Recipients will be acknowledged at the Annual Alumni Meeting.
An Andrew N. Swanson, MD, Memorial Presentation given by Oheneba Boachie-Adjei, MD.

Congratulations to this year's recipients of the Andrew N. Swanson, MD, Spine Awards.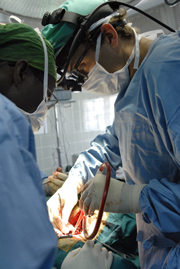 Resident Class of 2005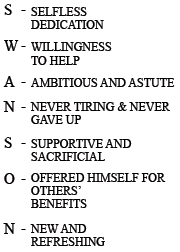 Interested in making a donation in honor of Dr. Swanson, please contact the HSS Alumni Affairs Office at 212.606.1057 or email
alumni@hss.edu
.