Physical therapy and exercise are important components in the treatment of osteoarthritis and can help you achieve and maintain optimal mobility. Exercise helps to increase flexibility, maintain range of motion of the joint, strengthen surrounding muscles, decrease associated inflammation, and improve overall fitness. The physical therapist can also make recommendations regarding the use of assistive equipment (such as a cane or walker) and the proper footwear to make walking less painful. The therapist can also guide you on the use of cold or heat therapy to manage joint pain and swelling.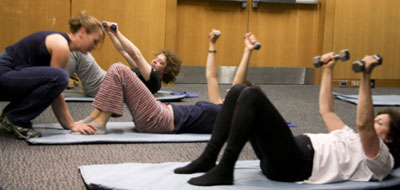 Before beginning an exercise program, it is important that you consult with your physician and an experienced physical therapist. The wrong exercises can place undue stress on the joint and exacerbate your condition.
The Virginia F. and William R. Salomon Rehabilitation Department plays an integral role in the care of patients with osteoarthritis at Hospital for Special Surgery. Its multidisciplinary staff includes physical therapists, occupational therapists, certified strength and conditioning coaches, and a massage therapist.
The Joint Mobility Center
The Joint Mobility Center at Hospital for Special Surgery provides comprehensive and dynamic rehabilitative services to adult patients with musculoskeletal problems resulting from osteoarthritis of the shoulders, hips, knees, and spine. The Joint Mobility Center also specializes in rehabilitative care for individuals who have undergone total joint replacement surgery.
Through a team approach that includes the patient, therapist, and physician, its specially trained physical therapists develop individualized programs to help patients achieve their goals and reach their maximum functional potential. They offer a broad spectrum of individualized therapeutic exercise in tandem with the most up-to-date manual techniques, modalities, exercise equipment, and treatment approaches.
In addition, the Joint Mobility Center places a strong emphasis on wellness and offers a group exercise program for individuals who have completed formal physical therapy and would like to maintain optimal mobility. View all the services of the Virginia F. and William R. Salomon Rehabilitation Department.