Hospital for Special Surgery's Lupus Support Programs Celebrate Lupus Awareness Month with a "Meet and Greet" Chinese Banquet, October, 2006
Setting the Scene
Lupus Across Cultures was set in the bustling New York City Chinatown area, which is a cultural haven, rich with many shades of people, colors, and traditional food. Inside the Golden Bridge Restaurant, with its bright red background and gold-accented dragons, a night of feasting, sharing, recognition, laughter, and indelible memories was set to commence.
More than 70 participants from Hospital for Special Surgery's three national support and education programs, LupusLine®, Charla de Lupus/Lupus Chat®, and LANtern® (Lupus Asian Network), which serve culturally diverse communities, gathered to meet each other in celebration of Lupus Awareness Month in October, 2006. At 5:30 pm, our guests started to arrive. They were welcomed by warm greetings and hugs from our program workers, and were given seat assignments, programs, goody bags, and some directions that would assist them in navigating the evening.
Welcome by Jillian Rose & Karen Ng
Jillian Rose, supervisor of the LupusLine and Charla de Lupus Programs, along with Karen Ng, Senior Coordinator of the LANtern program, welcomed the seated guests – comprised of over 60 clients, supporters, family members and counselors - to the festivities.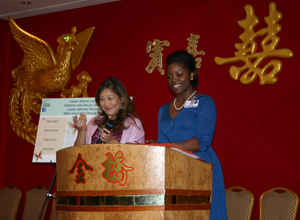 Karen Ng and Jillian Rose welcome the group to the banquet
Jillian shared with the audience the rich history of the programs. She explained that she was most proud of the many profound accomplishments the programs have made over the years:
What I am most proud of today cuts across cultures, eradicates fear, isolation, and confusion about this illness; I am most proud of the work of the counselors, peer health educators and clients. I am fortunate to witness both sides of the lupus coin. Although lupus can be a devastating illness, I have been fortunate to hear the stories of hope, witness the acts of courage, and help to foster strength.

I have been in awe of the sheer resilience of our counselors, clients, and program educators. It is this strength which cuts across cultures that we have invited you here to share in; it is the many lupus warriors that we have invited you here to meet, and for those of you who are new to our program, we have invited you here to be inspired and encouraged as you, your family, and your loved ones cope with this illness.
Jillian ended her welcome by saying, "Today, honored guests, counselors, clients, ladies and gentlemen, we are here to celebrate friendship, commitment, support, community, strength, education, progress and, most of all, success. Welcome, Bienvenidos, Fuen Ying!"
Karen then brought her warmest welcome to the audience. She underscored how amazing it was that we were all gathered together to share our stories, learn, and eat together. She noted that our cultures impact the way we think and act; in turn, that impact influences the way we react and cope when we are ill. She then explained that she had spent the last few years educating the Chinese community about lupus, a disease which many were unaware of or did not understand:
People who call our Support Line often feel very alone because they think they are the only Chinese people with lupus. My job is to help them and connect them with our peer counselors who can speak to them over the phone. Sometimes, speaking over the phone is not enough, because a lot of our clients express the desire to meet each other face to face. Through this event, we wanted our clients, counselors, and families to meet each other and share their experiences.
Karen then outlined our rich agenda for the night, which included lupus trivia, talks from program champions, five guest speakers sharing their personal lupus stories, recognition awards, and - who can forget - the seven course Chinese feast that was served throughout the program.
Karen closed by bringing greetings from Susan Flics, MS, RN, MBA, the Assistant Vice President of the Division of Patient Care and Quality Management, urging our distinguished audience to interact with each other. We then introduced our icebreaker and explained our trivia game, which lasted throughout the program. The winning table would receive a special prize; this helped bring people together into teams, allowing them to easily share and bond with each other.
Greetings from Lupus Program Champions
After our lavish first course of prawns and broccoli with walnuts, Roberta Horton, LCSW, ACSW, Director of Social Work Programs and Staff Development in the Division of Patient Care and Quality Management, and also our program champion and founder of all of our lupus support programs, spoke with our audience:
"Like a butterfly, our lupus support programs have spread their wings to reveal their many vivid colors: the unfolding of LupusLine in 1988, Charla in 1996, and LANtern in 2003. This unfolding and taking flight represents the diversity and spirit that fill the room tonight."
She went on to thank Karen and Jillian for their passion and creativity as program leaders, and expressed appreciation to Stephen A. Paget, MD, Physician-In-Chief, Division of Rheumatology at Hospital for Special Surgery, for being such a true partner from the beginning of these programs by, "demonstrating the power of mutual support as part of the healing process, never steering away from that ideal."
She concluded by saying that "each one of us are champions coping with this challenging illness; we do this through small and large acts of courage within the context of our culture, as well as through our individual hopes and expectations: responding to meet the needs of others, and knowing that it is possible also to reach out for support when we need it for ourselves and our loved ones."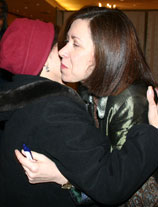 Roberta greets an attendee
Between the tender beef and chicken with sliced mango dish and table trivia conversations, Dr. Paget brought our audience words of hope for the present and the future of lupus treatment. He opened by saying:
I am amongst very special people -- everyone in this audience is quite special. While lupus does not care about who you are, woman or man, Asian American or Latino American, young or old, insured or uninsured, WE DO! That's what so special about HSS's peer-to-peer telephone and in-person support programs. The important thing to me is that these programs personalize and are sensitive to the problem that is lupus, which is quite impersonal and insensitive. The programs, and the people in them, care in a way that is so important when you are walking down a lonely path without a guide. They light the way that is commonly dark and seems impractical, they give you back control of your life taken from you by an illness that is downright disrespectful and uncaring. Most importantly, they give you hope for a brighter future.
Dr. Paget then went on to discuss the work that the Mary Kirkland Center for Lupus Research at Hospital for Special Surgery (founded by Katherine and Arnold Snider of Rheuminations, Inc.) has made possible. A new consortium of medical staff around the country, independent of the Kirkland Center, is known as the Lupus Clinical Trials Consortium; it is working hard to find new, effective, and safe medications to treat lupus and to redefine lupus in the 21st century. Dr. Paget spoke about his hope that, "20 new sophisticated, safe, and effective drugs are a few months to a year away for lupus." He closed by saying that, "medications are important, but it's the people-to-people interaction that is just as important, and that is what we are celebrating - and I couldn't be more honored to be here with you."
The room was full of conversations, laughter, smiles, and the aroma of flavorful food. People shared their stories while others actively listened; some worked on their trivia questions and others just caught up with old friends. The energy, comfort, and assurance was evident. Fear and isolation no longer lingered; it was erased by the caring and sharing of others. In this atmosphere, we invited our clients and program staff to share their personal stories.
Special Guest Speakers – Personal Stories of Lupus
Each person's lupus experience is unique and different. Though this event served as an opportunity for certain people to share their own stories, it was not meant to be a set of recommendations for any particular treatment plan.
Lillian Mendez was one of the guest speaker representing our LupusLine and Charla de Lupus programs.
Lillian Mendez, Charla program associate for over five years, was diagnosed with lupus in 1992, which was devastating to her. "Being diagnosed with lupus was the battlefield of my life, because no one knew what it was," she said. Her lupus began to take away her independence; she was unable to walk, talk, or do simple tasks, such as brush her teeth.
Today, she is in remission and has been in remission since 1998. "Working with Charla de Lupus, I can relate with people from the Latin culture and other cultures," she said. Being a peer health educator has also allowed her to meet and help lupus patients, and it is rewarding to help other Latino patients like herself and advocate for them as they walk on their journey with lupus.
Eliza Ngan-Dittgen, a LANtern peer health educator from the program's beginning, was first diagnosed with lupus nine years ago in Hong Kong. She explained that in the beginning she did not feel as bad because her mother had also been diagnosed with lupus; the two would frequently care for each other. However, when she and her husband moved to New York, it became difficult and a bit lonely. "[My husband] is supportive, but he is not mum, who knows exactly how I feel," she said.
She then went on to discuss the birth of her two sons and the roller coaster experience she had once she had become a mother. "Being a mom with lupus also adds to my fear, as I always worry about not being able to take care of my kids when I am sick," she said. "Then I came to realize that, ultimately, I must take care of myself first. If I am well, my kids will be better off. So I decided to get rid of my sense of insecurity and try not to overly worry about my lupus by looking at the brighter side of life."
Eliza mentioned that she was able to get help at home, which allowed her to rest, focus on eating right, exercise regularly, and even work some Chinese herbal medicines into her routine. Each helped get her back into shape.
"Today I am getting more stable and am a much happier person," Eliza explained. She added that what makes life even better for her was joining LANtern back in 2002. It was her first time reaching out to other lupus patients and was a rewarding experience for her. "There is a large group of Chinese in our community who are curious and lonely while living with lupus," she continued. "I am glad that I am the one who reaches out to them and we support each other by sharing our experiences, information, and knowledge. It is indeed a mutual relationship."
Eliza went on to share that in her experience she has found that many Chinese people do not like going to doctors unless it is absolutely necessary. They also do not like sharing bad news - like illnesses - with their families and friends because they do not want to add to the burden of others. As a result, their medical awareness and information resources are very limited. Eliza expressed that their reluctance to talk about their illness and reach out for support may further strengthen their illness, causing emotional upheavals, confusion, and misinformation.
"We LANtern-ers are here to quash these barriers and open up the community so that people can live happier with their lupus through our channel," Eliza explained. "It also makes me stronger and helps me realize how lucky I am to be able to make a difference in other people's lives and to keep them company on this otherwise lonesome journey with lupus."
Our last guest speaker of the night was a 25-year-old young man who was diagnosed with lupus only five months prior. He explained that his first symptoms of lupus were loss of appetite, fatigue, and swollen ankles. He did not know what was wrong with him and went to the emergency room.
"After numerous tests, I was informed later on that I had lupus. I was shocked and devastated to hear the diagnosis of 'lupus' once again in my life." His mother had lupus for 30 years but he did not know much about the illness.
"My mother never really shared much of her lupus stories while I was growing up, and I had never seen any flares or symptoms. I just knew she had an illness but didn't know how serious and complicated it was." He continued to speak about his fears and the dramatic interruption he experienced in his life.
Being an active person, it was difficult for him to adjust to some of the limitations that lupus had temporally placed on him. "I was an active person who loved going out and being involved in activities such as jogging, going to the gym, socializing, and traveling," he said. "These past few months have been tough and difficult seeing my legs all swollen."
He said that while it was an emotional and physical challenge for him to deal with lupus, the disease was ultimately one with which he could live. "After a while of acceptance of the fact that I had lupus, I said to myself, 'I survived and lived, and it's not my time yet. I've got another chance, and now it's time to preserve life and enjoy life.'"
Then, he shared with our audience how difficult it was adjusting to his new diagnosis and rapidly changing body. He thanked his family and friends for helping him through times when he just wanted to isolate himself and shut out the world.
"Talking really helps, and today I am sharing my experience with you to hopefully boost everyone's spirits," he said.
He closed by thanking Karen and the LANtern program for helping him answer his questions and assisting him in understanding lupus. "There were so many questions to ask and answers that I wanted," he said. "LANtern helps answer some of these questions, ranging from what lupus is, how complex it is, and ways of providing support. It made me feel like my normal self again, someone who fit back into society."
Remarks From LANtern Advisory Board Member
Henrietta Ho-Asjoe, MPS, Director of Community Development at The Center for the Study of Asian American Health at NYU School of Medicine, is one of our LANtern Advisory Board members. She talked about her experience with LANtern and remembered being eager to become part of the LANtern committee when she was first asked, five years ago.
"I didn't know anything about lupus; how it affected the Chinese community.... I had to do my homework," she said, later explaining that Karen and the rest of the Advisory Board also helped her to better understand the illness and how it affected the Chinese community.
She went on to discuss the great work Karen does in educating the Chinese community about lupus. "I have seen Karen in every health fair and conference for the last five years with her little suitcase, brochures, and other materials," she said. Henrietta then expressed how important it was for her and the rest of the Advisory Board members to do all that they could to continue to educate and support the lupus community.
Henrietta ended by thanking everyone for having her speak with them and expressed thanks to the Advisory Board for their commitment and continued work.
Recognitions
After Henrietta's acknowledgements, we honored all members of the Advisory Board, our lupus champions, our LANtern, LupusLine, and Charla counselors, our volunteers, and staff members for their ongoing support and willingness to give of themselves in order to enrich the lives of people with lupus.
We said a special thank you to Lena Fung who assisted us tremendously in planning this wonderful event and had a moment of silence to honor the memory of those who had passed on.
Concluding the Celebration
The night closed with cake and a group picture to memorialize the wonderful celebration. As all of our guests lingered before they left, it was evident that they were not only fed physically by the delectable feast, but also filled mentally and spiritually by the warm welcomes, the feeling of hope, and the dose of personal stories of struggle and triumph. They felt cloaked in a sense of security that resulted from meeting people who shared similar experiences.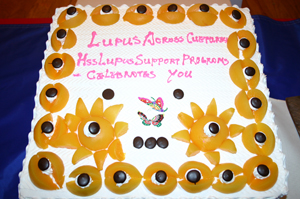 The delicious cake
On this night, fear was eradicated and people felt less isolated and more empowered to take charge of their lupus. Participants left feeling enveloped in a community of support and life - for many seemed to be filled with possibility and hope again. It appeared as though everyone left with their path a little brighter; evidence of this is illustrated by some of the comments that participants shared in the comment cards left behind at their tables. Certain comments seemed to particularly sum up the evening:
"It is so wonderful to see the people who have similar situations…how they have overcome challenges through the years."
"Great, great…thank you for the informative, lively, and wonderful stories and the extraordinary people who have lupus and cope with this illness…"
"(On this) day we're not alone."
"I loved this event. It was well organized, full of warmth and support, a great bonding experience. I loved hearing everyone's story of lupus. Thank you so much for inviting me. It made us all feel less alone in our battle with lupus."
"…awesome food and wonderful people…"
"…good opportunity to feel like a community."
"…warm and intimate…"
"The evening program is successful and wonderful. I feel the positive hope with my disease."
"The medical information about continuous research was uplifting. What a great idea to get together."
Learn more about Hospital for Special Surgery's lupus support and education programs.
Updated: 4/19/2019
Summary by Jillian Rose, LMSW, Program Supervisor, LupusLine and Charla de Lupus/Lupus Chat Programs
Authors
Jillian Rose, PhD, LMSW
Program Manager, LupusLine and Charla de Lupus/Lupus Chat
Hospital for Special Surgery
Karen Ng, BA, MPH
Senior Coordinator, LANtern Program
Hospital for Special Surgery