Foot and Ankle Deformities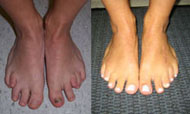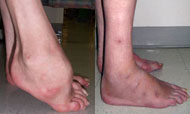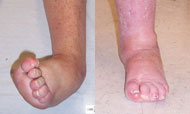 Complex foot and ankle deformity can be difficult to treat with conventional surgical approaches. Deformity and instability of the ankle can be seen in Charcot arthropathy, and in other neuropathic conditions. External fixation with acute or gradual correction of deformities can be used to safely treat complex ankle deformity.
Following ankle trauma, infection, or even a failed ankle replacement, there is often significant bone loss around the ankle. We approach these limb salvage situations with ankle reconstruction and simultaneous bone lengthening.
While ankle arthritis is often treated with fusion, we also offer ankle joint preservation surgery using ankle distraction and cell therapy injections.
Congenital deformities of the foot including short toes (brachymetatarsia) can be reconstructed with metatarsal bone lengthening.