James B. Carr II, MD at HSS Florida
Orthopedic Surgery, Sports Medicine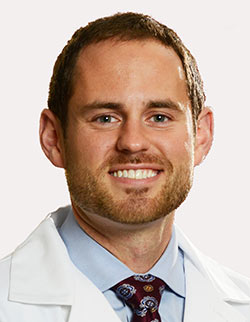 Dr. James "Beamer" Carr, II is an orthopedic surgeon specializing in sports medicine and minimally invasive treatments of the shoulder, elbow and knee. This includes treating common sports-related injuries in the overhead throwing athlete such as rotator cuff tears, biceps tears, ACL and ulnar collateral ligament tears, as well as knee injuries like patella instability.
He has authored a number of articles and book chapters on shoulder, knee and elbow problems. His areas of focus for research involve injury prevention, advanced rehabilitation and regenerative medicine like PRP and growth factors. Dr. Carr was recognized with the AAOS Shoulder and Elbow Best Poster Award in 2018. Other notable awards include the Chief Resident of the Year Award in 2018 and the Warren Kadrmas Fellow Citizenship Award in 2019.
Dr. Carr brings firsthand knowledge of competitive sports as a former collegiate baseball player. He is currently an assistant team physician with the New York Mets and event physician for Champion Series Tennis by Invesco. His goal is to get his patients back to their normal levels of activity and function by providing clear guidance, patient education and personalized care.
James B. Carr II, MD, Orthopedic Specialties
Dr. Carr specializes in the following conditions and treatments:
sports medicine
rotator cuff repair
shoulder labrum repair
shoulder instability surgery
AC joint reconstruction
clavicle fracture
ulnar collateral ligament reconstruction (Tommy John surgery)
distal biceps repair
lateral and medial epicondylitis
knee ligament reconstruction
knee cartilage surgery
meniscus repair and meniscectomy
patella stabilization
tibial tubercle osteotomy
Achilles tendon repair
overhead throwing shoulder and elbow problems

Notable Awards
Below are some of the notable awards won by Dr. Carr for his care and expertise as an orthopedic physician and surgeon.
Warren Kadrmas Fellow Citizenship Award, 2019
AAOS Shoulder and Elbow Best Poster Award, 2018
Chief Resident of the Year Award, 2018
Mulholland Resident and Fellow Teaching Award,2017
Alpha Omega Alpha Honor Society, 2012
Gold Humanism Honor Society, 2012