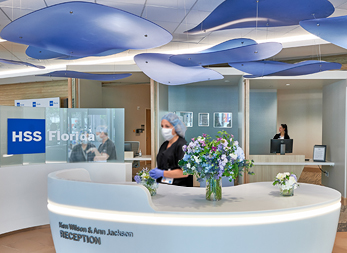 HSS Florida provides state-of-the-art care from the world's leading academic medical center focused on musculoskeletal health. Located in West Palm Beach, we offer the same superior quality of surgical care, rehabilitation, and other services that our patients expect from HSS.
HSS Florida is a joint venture with Tenet Florida Physicians, LLC, an affiliate of Tenet Healthcare Corporation.
Insurance Accepted at HSS Florida
HSS Florida currently accepts a wide range of insurance plans to make our exceptional care accessible to as many people as possible. We are working diligently with providers and patients to keep out-of-pocket costs as low as possible. We also offer financial assistance for those patients who are concerned about paying for their care.
Why Choose HSS Florida for Orthopedic Care, Surgery or Therapy?
Coming to HSS for orthopedic care isn't just about treating your injury or condition. It's about getting you back to all the things you need and love to do.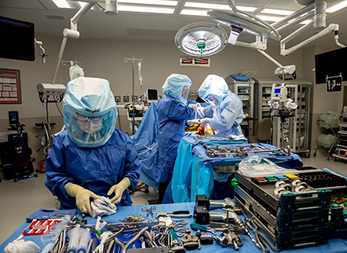 Safety
As the No. 1 hospital for orthopedics in the United States, Hospital for Special Surgery, our main hospital location in New York City, sets national standards for safety and patient care. With HSS Florida, we extend that same level of expertise to residents of the Greater Miami area.
Individualized Care
The best orthopedic care begins with the proper diagnosis. At HSS Florida, we offer state-of-the-art radiology and imaging and are committed to precise clinical evaluation and testing. Our goal is to give you the best treatment plan for your lifestyle and goals.
Our individualized care practices include:
the most current imaging and diagnostic technologies, which we are continually evaluating as part of clinical research
the use of regional anesthesia when possible to reduce postsurgical pain, blood clots, and stress; speed up recovery; and help reduce or eliminate the need for opioids
physical therapy and rehabilitation with expert physical therapists using the most advanced equipment and techniques
Our Expert Physicians
HSS Florida is committed to providing the best orthopedic care in the country. Every member of the team, including orthopedic surgeons, physicians and physical therapists, specializes in orthopedic care. Meet our doctors.