Essential to Hospital for Special Surgery's leadership in breakthrough research are its physician-scientists, the dedicated orthopedists and rheumatologists who balance clinical care with the rigorous pursuit of medical research. To cultivate the next generation of physician/scientists, HSS has established the Anna-Maria and Stephen Kellen Physician-Scientist Career Development Award program.
This unique program, launched with $1.8 million in funding from the Anna-Maria and Stephen Kellen Foundation, supports scientific investigations by emerging HSS physicians. The Foundation recently granted another $2.5 million of further support.
Supporting New Discoveries
The Kellen Award program provides key funding for research and encourages mentorship. Each of the early career recipients is paired with one or more senior scientists in the Hospital's Research Division.
"I like to fund projects that directly help people," says Marina Kellen French, vice president of the Anna-Maria and Stephen Kellen Foundation and a Trustee of HSS.
"I have always had a great interest in supporting young clinicians who would like to dedicate part of their careers to scientific endeavors. I am especially pleased that the Clinician Scientist program, which is a key part of the research mission at HSS, allows me to fulfill my lifetime interest in this area," says Ms. Kellen French.
"Physician-scientists have a deep understanding of patients' needs and priorities, and they drive research that will directly impact patient outcomes," says Thomas P. Sculco, MD, surgeon-in-chief and Korein-Wilson Professor in Orthopaedic Surgery, who has played a key role in developing this program. "We are so honored that the Anna-Maria and Stephen Kellen program provides crucial financial support for promising young physicians who aspire to advance medicine through research as well as patient care."
"The purpose of research at HSS is to translate our discoveries into improving outcomes for patients, and the Kellen Awards play a critical role in supporting the talented physician-scientists who make these discoveries," says Steven R. Goldring, MD, chief scientific officer and Richard L. Menschel Research Chair. "It gives them the 'protected time' they need to maintain their busy clinical practices while pursuing research in the laboratory. Without this support, financial constraints could force them to abandon their research."
Through a competitive peer-review process, candidates are selected to receive five-year awards that provide $500,000 for specialized research tools, laboratory and technical support, and equipment.
The program's first round of awards was granted in August 2012 to six HSS physician-scientists with wide-ranging projects, two of which are discussed here. To read about additional research supported by the Kellen program, please visit the HSS blog at https://www.hss.edu/playbook/.
Bone Healing through Nanotechnology
Aaron Daluiski, MD, an orthopedic surgeon specializing in pediatric and adult hand, wrist, and elbow surgery, is using his Kellen Award to investigate bone healing following fracture. With his mentors Dr. Goldring and orthopedic surgeon Mathias Bostrom, MD, Dr. Daluiski's investigation is two-fold: basic science research into how patients heal following bone fractures, and the development of new drug therapies to improve bone healing without surgery.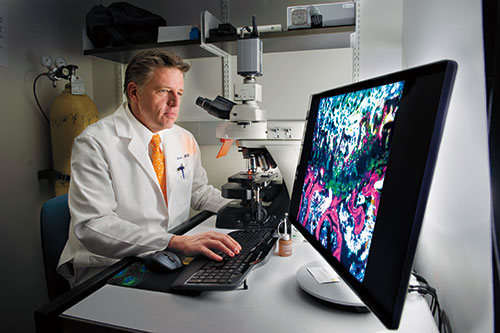 The first phase of the study looked at how fracture healing differs in the young and the old. "We know that kids heal so quickly that we typically treat fractures in children nonoperatively with a cast or a splint and they heal in about three weeks," says Dr. Daluiski.
"For some reason, we lose that capacity to heal as we age. We are looking at this phenomenon to understand which genetic pathways are involved in the bone healing process. We are investigating those pathways to find specific drugs to augment healing. Even a modest reduction in healing time would be a tremendous benefit to patients."
Dr. Daluiski and his colleagues study nonsurgical methods to move bone-healing medication to the fracture site. Medication can be directly injected into the fracture site, but only if the exact location of the fracture can be readily detected by touch or by using imaging techniques such as ultrasound. Deep fractures of the pelvis or the spine, which are common in older patients, present a major hurdle.
"We can't easily get there with an injection," says Dr. Daluiski. To solve this problem, the research team has turned to innovations in nanotechnology – tiny, microscopic particles called nanoparticles – to explore ways of delivering the bone-healing drugs to the deepest fractures. "We find a vein, the particle is injected intravenously, it circulates safely through the bloodstream and then targets the fracture, where it is filtered by the fracture site and delivers the drug to the target cells."
The technique has been used for cancer treatment, but never before for fracture healing. "We've been using the medication simvastatin, a cholesterol-lowering drug that also, curiously, has bone healing properties," says Dr. Daluiski. "This delivery method lets us target the fracture with high doses that would otherwise be toxic to the body."
The team is now in the process of refining the technique using simvastatin and testing other drugs with other types of nanoparticles. Dr. Daluiski credits his collaboration with his mentors for much of the project's progress: "I couldn't ask for a better team."
Seeking a Solution for Scleroderma
Scleroderma is a rare autoimmune connective tissue disorder that can affect multiple organs including the musculoskeletal system, skin, heart, lung, kidneys, and the gastrointestinal tract.
"Of all the conditions we see in rheumatology, scleroderma has the highest rate of morbidity and mortality," says rheumatologist Jessica K. Gordon, MD. "Patients have an increased risk of death due to internal organ manifestations of the disease. There are currently not many universally effective treatments. We can definitely improve quality of life, but there is no cure."
A Kellen Award recipient, Dr. Gordon collaborates with senior scientists Mary K. Crow, MD, physician-in-chief and Benjamin M. Rosen Chair in Immunology and Inflammation Research, and Robert Spiera, MD, director of the Vasculitis and Scleroderma Program, to investigate new medications for scleroderma. Using biological samples from ongoing clinical studies at HSS, the team seeks to determine which patients will benefit the most from different kinds of therapies.
The funding supports the study of the use of molecular analysis to search for biomarkers for disease diagnosis, identify the disease mechanisms and predict the response to treatments. The scientists extract RNA from tissue samples and measure levels of gene expression on microarray genechips.
"With just a little drop of RNA you can measure large numbers of genes," says Dr. Gordon. "With so much data, it allows us to test many hypotheses at one time."
With IRB approval, Dr. Gordon and her team also run clinical trials of existing medications. The goal of Dr. Gordon's research is to enable rheumatologists to quickly determine which therapy will work best for each specific patient with scleroderma. This is called "personalized medicine," which is also a priority of the David Z. Rosensweig Genomics Research Center at HSS.
Preliminary results show that scleroderma patients who responded to a drug called nilotinib had different changes in their gene expression than those who didn't. "It's early, but it's conceivable that as we look at patients we could one day determine what kind of treatment is suited for each individual. These studies offer a lot of hope to patients," says Dr. Gordon.
Dr. Gordon says of her mentors: "They are tremendously supportive. They taught me how to do clinical and translational research
Read the full Discovery to Recovery Spring 2014 issue.
Posted: 5/7/2014