Orthopedic surgeons perform almost 700,000 knee replacements in the United States each year, and the procedure has a high success rate in alleviating pain and restoring an active lifestyle. It's not uncommon for patients to have arthritis in both knees, so they may need to decide, along with their surgeon, whether to have both knees replaced at the same time.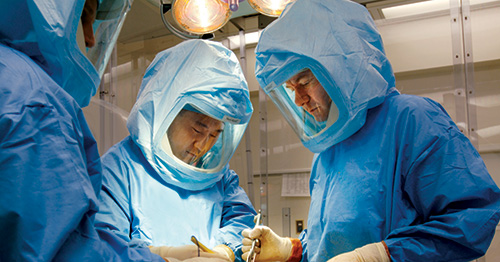 Should I have both knees replaced at the same time?
This procedure, known as a bilateral knee replacement (or double knee replacement), has both pros and cons. Your orthopedic surgeon and you must be carefully weigh both before you make a decision.
What are the pros of double knee replacement?
Having both knees replaced at the same time enables patients to get back to their normal lives more quickly.
Patients have one surgery, one hospital stay and one course of rehabilitation.
Patients generally take less time off from work.
What are the cons of double knee replacement?
Studies show there is a greater risk of complications, including cardiovascular problems and blood clots.
Patients lose more blood, so there is a higher rate of blood transfusions.
Recovery and rehabilitation are much more challenging because greater physical and emotional strain is placed on the body. Rehab is also more difficult because patients are unable to rely on a stable leg for support.
Patients who have a double knee replacement must go to a facility for rehab after surgery. After a single knee replacement, many individuals go straight home and have physical therapy at home.
Who is a candidate for double knee replacement?
Candidates for the procedure must be in excellent health, aside from the arthritis, with no underlying medical problems. They must have no history of heart or lung disease. They also need to be psychologically prepared for the intensive rehabilitation double knee replacement entails. With careful patient selection, the overall success rate is high for bilateral knee replacement. (Find a knee replacement surgeon at HSS to suit your specific condition, location and insurance.)
At HSS, bilateral knee replacements are not performed in individuals over 75 years old due to the greater risk of complications in older patients. Same-day double knee replacement is also out of the question for individuals of any age with a serious medical condition. Severely overweight patients who have a BMI over 40 would not be candidates for the bilateral procedure.
Advances in total knee replacement
Not long ago, many people thought that if you had one knee replaced, the pain and rehab would be so taxing you wouldn't want to come back for surgery on the other knee. But with today's advances in surgical techniques, anesthesia and pain management, the recovery for a single knee replacement at a high-volume joint replacement center is much easier and faster than it was in the past. At Hospital for Special Surgery, virtually every patient comes back for the second knee replacement, generally waiting at least three months in between surgeries.
Know what to expect before having a knee replacement
Whether having two separate procedures or both knees replaced simultaneously, the orthopedic surgeon should have a detailed discussion with the patient about what to expect. Because of the special considerations involved in bilateral knee replacement, it's especially important to choose a highly experienced orthopedic surgeon who specializes in joint replacement.
Patients should also choose a hospital that performs a high volume of joint replacements, such as HSS. The entire staff will be accustomed to dealing with the needs of patients before, during and after the surgery.
Knee replacement is a big step, but knowing the facts can help patients make an informed decision. After the surgery, most patients will tell you that in terms of arthritis pain relief and improved mobility, they wished they had done it sooner.
Updated: 10/4/2021
Authors

Geoffrey H. Westrich, MD
Attending Orthopedic Surgeon, Hospital for Special Surgery
Professor of Clinical Orthopaedic Surgery, Weill Cornell Medical College
Related articles