The information about how to treat and prevent COVID-19 has been changing at a rapid pace since the pandemic first began. But one thing that has remained consistent is the concern among people with inflammatory arthritis about how they can best care for themselves to prevent the infection and its serious complications.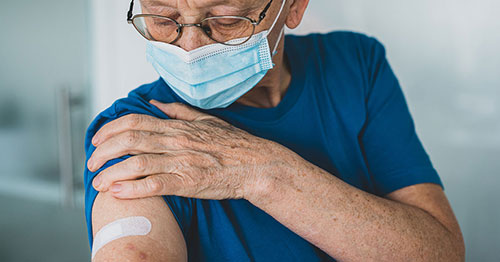 Are you at increased risk of COVID-19 if you have an autoimmune disease like rheumatoid arthritis? Should you get the COVID-19 vaccine? Should you keep taking your arthritis medications?
The answer to all three questions is "yes." But there's more to the topic than that. By getting vaccinated, taking precautions to protect yourself, and collaborating with your physician to customize your medications, you can maintain good health during these uncertain times.
Are you at increased risk of COVID-19 if you have an autoimmune disease?
When you have an autoimmune disease such as rheumatoid arthritis, lupus, or psoriatic arthritis, anything that rattles the immune system can trigger a flare. Moreover, people with autoimmune disease are more susceptible to infections – in part due to the impaired regulation of the immune system, but also as a result of medications designed to suppress the immune response.
A study published in the journal Arthritis & Rheumatology in May 2021 which examined thousands of veterans reported that the risk of COVID-19 was 25% higher and the risk of COVID-19 hospitalization or death 35% higher among those with rheumatoid arthritis compared to those without the disease. The authors concluded that people with rheumatoid arthritis should be prioritized for COVID-19 prevention and management strategies.
Do rheumatoid arthritis medications affect your ability to fight COVID-19?
Which disease-modifying antirheumatic drugs (DMARDs) are most likely to influence COVID-19 severity? A study published in November 2021 by the Global Rheumatology Alliance in the Annals of Rheumatic Disease answered that question. After analyzing data for more than 2,800 people with rheumatoid arthritis in the COVID-19 Global Rheumatology Alliance physician registry, researchers found that people with rheumatoid arthritis who were taking rituximab or JAK inhibitors (such as tofacitinib or upadacitinib) when they were infected with COVID-19 were more likely to have severe illness requiring hospitalization than patients taking TNF inhibitors (such as infliximab, etanercept, adalimumab, or golimumab), abatacept, or interleukin-6 inhibitors like tocilizumab.
Rituximab and JAK inhibitors may impair the ability of the immune system to fight the coronavirus by lowering levels of white blood cells called B cells. Other studies have shown that prednisone and methotrexate may also adversely affect your response to COVID-19 infection. That said, a poorly controlled autoimmune disease is much more of a threat to someone with COVID-19 than these medications. If you are taking these medications for your inflammatory arthritis, speak with your physician about the best ways you can protect yourself against COVID-19 infection – starting with the vaccine, if you haven't received it already.
Should you get the COVID-19 vaccine?
Most people under the regular care of a physician for inflammatory arthritis are agreeing to get the COVID-19 vaccine and its booster. Doing so offers you the greatest chance of protection against severe illness, hospitalization, and death should you contract the infection. Yet people with autoimmune disease and those taking DMARDs have a lower response to the vaccine and an increased risk of breakthrough infections.
To combat this, the American College of Rheumatology recommends adjusting the timing of receipt and possibly the dose of certain DMARDs – such as rituximab, methotrexate, and abatacept – to help your immune system develop the best possible response to the vaccine while still controlling your arthritis symptoms. Speak to your doctor about your personal situation to find out what is most effective for you.
Can COVID-19 infection or the vaccine trigger inflammatory arthritis?
There are sporadic reports suggesting that some people with COVID-19 developed inflammatory arthritis as a complication of the infection. While COVID-19 survivors have reported muscle and joint pain, there have not been any studies showing that these individuals demonstrated markers of inflammatory arthritis. Nevertheless, the jury is still out on this topic, since it can take years for such late effects to materialize. This is an entirely new virus, and doctors are making no presumptions. Researchers will be watching it for decades to enhance their understanding of its long-term implications on our health.
There have been very rare reports of people with rheumatoid arthritis experiencing a disease flare after COVID-19 vaccination, but that is not a reason to avoid it. Flares after vaccination are an exception, not the rule. The benefits of protection against this potentially lethal disease far outweigh the risk of an autoimmune disease flare, and the American College of Rheumatology continues to recommend the vaccine to all eligible patients.
Team up with your rheumatologist
If you have any concerns about COVID-19 and your inflammatory arthritis, address them with your physician. Together you can work to modify your DMARD medications in a way that achieves the greatest benefit from COVID-19 vaccination while still controlling your arthritis symptoms. Your relationship with your physician is not just a transaction, but a lifelong connection to ensure your good health.
Posted: 2/9/2022
Authors

Iris Navarro-Millan, MD
Associate Attending Physician, Hospital for Special Surgery
Associate Professor, Weill Cornell Medical College
More from this issue
If you or someone you know is living with a chronic inflammatory condition, learn about the different patient support programs available at HSS.